Kansas teen could win $5,000 for her western-style duct tape prom dress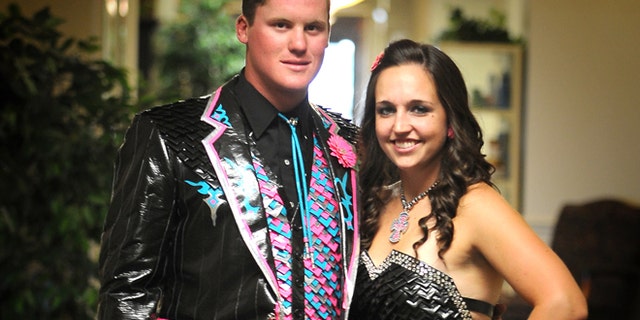 NEWYou can now listen to Fox News articles!
SOLOMON, Kan. – A Kansas teen has earned a spot as a finalist in a national design competition with a prom dress made entirely from duct tape.
Brooke Wallace, 17, of Solomon, spent more than 200 hours fashioning a western-style prom dress for herself and a suit for her date from 42 rolls of duct tape. Wallace told The Salina Journal the effort wasn't just for kicks: She and her date, Mark Aylward, could each win $5,000 scholarships and their school could get $5,000 too.
The couple was recently named one of 10 finalists in a design contest sponsored by duct tape maker Duck Tape. The competition required couples to make and wear outfits made from duct tape to their spring proms and post pictures on a website. The winners will be chosen through online voting that runs through July 11.
Wallace said she went with a rodeo theme for their outfits because "we both live in the country, so it fit our style."
For her dress, made a slip out of light cotton material and then sewed sections of duct tape onto the fabric. The torso of Wallace's dress and Aylward's cowboy vest were made from 1,500 to 1,800 hand-folded triangles of tape, she said. Ruffles on her skirt and trim on his vest were crafted from turquoise and hot pink tape.
"I wanted colors that looked good together, along with an intricate design that would stand out," said Wallace, who will start her senior year at Solomon High School in the fall.
She also created accessories to go with the outfits, including a purse and earrings for herself and a bolo tie, lariat, gun and holster for Aylward, all from duct tape.
Wallace said there is one significant difference between her dress and her date's suit. While both were made with duct tape, her dress was sewn entirely from tape. It can be worn short or long because it has a detachable skirt.
To make Aylward's suit, she took ready-made pants, a vest, a coat, boots and a cowboy hat and covered them in duct tape. The only thing not taped was his shirt.
Aylward, 16, said the outfits attracted a lot of attention at the prom and people especially wanted to touch them.
"We stood and took pictures longer than anyone else," he said.
The duct tape dress wasn't Wallace's first foray into unusual design. She won a blue ribbon at the Tri-Rivers Fair last summer with a dress made from 60 Mountain Dew cans and nearly 600 pull tabs.
But for her senior prom next spring, she said, she'll probably do something "more normal."