Kansas City Chiefs player rescues pregnant woman from floodwaters
A former Kansas City Chiefs player can now add the title of "hero" to his extensive resume, after he rushed into floodwaters in Missouri on Tuesday to help a pregnant woman after her minivan got stuck.
Neil Smith, who played for Kansas City from 1988 to 1996, recording 104 sacks during his 13-year NFL career, told FOX4 Kansas City he noticed the driver trying to make it across the flooded roadway in Lee's Summit, located about 20 miles southeast of Kansas City.
"I was just right in the right place at the right time," Smith said.
The former defensive end said he "couldn't believe" the woman was trying to get through the floodwaters, and he watched her get to the point where her vehicle stalled out.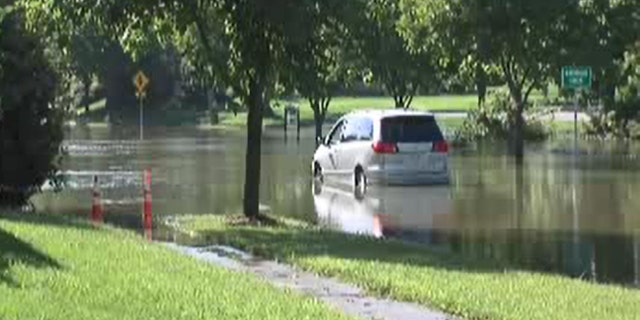 Smith then waded into the waist-high water to help bring the woman to safety. The woman who was pulled from the van declined an interview with FOX4 and was not identified.
"She was in there, I didn't know if she had kids, because she was about nine-months pregnant and she was very short, so I had to walk her out of there," Smith told FOX4.
Heavy thunderstorms pummeled portions of Kansas and Missouri on Tuesday, prompting numerous rescues of stranded motorists -- not all of them by former NFL players -- and others who scrambled to safety atop homes due to flash-flooding.
And after already pulling one woman from the waters, Smith has some advice to drivers who may try to beat Mother Nature.
"Do not go around those barricades when you see water," he said. "Just stop turn around."
The Associated Press contributed to this report.