'Just a soldier doing my job,' says hero who tackled suicide bomber in Afghanistan
Florent Groberg tackled a suicide bomber in Afghanistan and lived to tell about it. The Army captain received the Medal of Honor for his brave action, but he says he's "absolutely not" a hero.
"The word belongs to the people that don't come home," he says. "I'm just a soldier doing my job."
Still, his heroic act in 2012 has become the stuff of legend.
Groberg, 33, was born in France to an American father and French mother of Algerian descent. He came to the U.S. in 1994 at the age of 11, learned English while growing up in Maryland and became determined to join the military after the September 11 terror attacks.
He became a U.S. citizen and entered basic training in 2008, and one year later he was in Afghanistan, leading a platoon that patrolled villages, fought the Taliban and supported the locals as they built their own government.
He said the war zone made him "a little overwhelmed and nervous at first, because … men could die on my watch.
"In combat, there were definitely some tough parts … where you're under fire, when you realize, holy macaroni, there's a human being that's actually trying to kill me right now. But you have your men next to you, and you're all in sync working together."
On Aug. 8, 2012, during his second deployment to Afghanistan, Groberg was personal security detachment commander of a patrol escorting military officials on foot to the compound of a provincial governor.
They began walking across a bridge, and two men on motorcycles approached from the other side.
An Afghan soldier assisting Groberg's team sensed danger. "As soon as the motorcycles came towards our patrol, he sprinted towards them and raised his rifle and started screaming at them," Groberg said.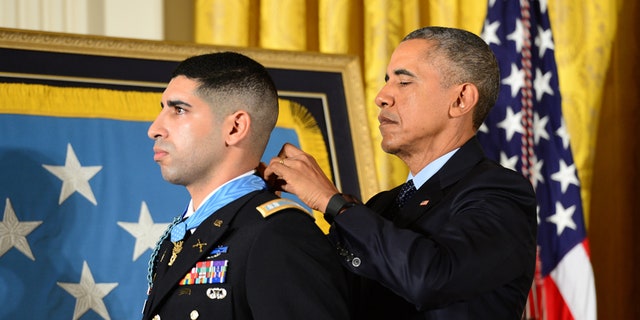 The men "dumped their bikes and started running away. That's when we're like, 'What the heck is going on?' Their goal, which they accomplished, was to stop the patrol."
At the same time, Groberg recalled, a young man who "looked odd" came out of a building and moved toward the patrol.
"He's walking backwards," Groberg recalled. "I yelled at him, and as I got closer, he never looked at me.
"When I grabbed him by the chest I realized he was wearing a suicide vest."
Sgt. Andrew Mahony helped him shove the suspect away from the other troops. "The only thing you can do is do your job, be a soldier," Groberg said. "So I pushed him, threw him as far as I could."
The man detonated his vest as Groberg tackled him.
"I was thrown about 15, 20 feet [and] knocked out for I don't know how long," he said. "I woke and I realized I was injured. It was real and it wasn't a dream….
"[In] eight seconds, my life completely changed."
Meanwhile, another suicide bomber, who had been hiding nearby, set off a second bomb that killed four men in the patrol: Army Command Sgt. Major Kevin Griffin, Army Major Thomas Kennedy, Air Force Major Walter Gray and foreign service officer Ragaei Abdelfattah.
But it would have been worse if Groberg hadn't tackled the first bomber, who detonated his device prematurely.
Groberg's left leg was seriously injured, and it wasn't until later that he learned four had been killed.
"It was a very devastating moment," he said.
"The idea of dying never really crossed my mind. The idea of doing my job was more important to me.… My number two looked at me and said, 'You're done, sir. I've got this. Don't worry, gotta take care of yourself.' "
Groberg's calf muscle was half blown off, and his leg will never be the same, even after 33 surgeries. He credits medic Daniel Balderrama for saving his life, and he says he got stellar care at Walter Reed Army Medical Center when he came back to the US.
"You're surrounded by the nation's finest men who have gone through a lot worse than you ... [even] 100 surgeries…. I had my dark days … but I feel very grateful and blessed."
Last year, President Obama awarded Groberg the nation's highest military honor, the Medal of Honor.
It was "very emotional and tough," Groberg said, "because you're receiving an award for the worst day of your life.
"I wear it specifically to make sure I honor my brothers and their families as a reminder of their sacrifice ... and hopefully… send a message about people who are truly the heroes."
American Legends – Stories of soldiers who responded to a difficult conflict situation, and did everything they could to defeat the enemy and get their brothers home.