Jury selection scheduled for alleged cross-dressing priest accused in meth ring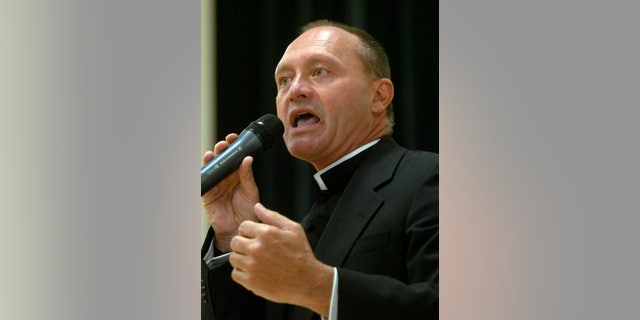 NEWYou can now listen to Fox News articles!
HARTFORD, Conn. – Jury selection has been scheduled for March for a suspended Roman Catholic priest in Connecticut charged in an alleged methamphetamine drug-selling operation.
Sixty-one-year-old Monsignor Kevin Wallin of Waterbury remains detained without bail on federal charges accusing him of shipping methamphetamine from California to his apartment and making more than $300,000 in drug sales in the second half of last year.
He was one of five people arrested and indicted by a grand jury this month. He has pleaded not guilty to charges.
Federal prosecutors say Wallin, who is now dubbed "Msgr. Meth," sold most of the drugs out of his apartment in Waterbury from August to December, and some of the transactions involved an undercover officer. He is accused of selling upwards of $9,000 of meth a week.
Wallin resigned as pastor of St. Augustine Parish in Bridgeport in June 2011, citing health and personal problems. Diocese of Bridgeport officials suspended him last May.
A diocese spokesman told the Connecticut Post that there were complaints about Wallin's appearance, erratic behavior and sexual encounters with men in the St. Augustine rectory.
Wallin purchased an adult specialty and video store in North Haven called Land of Oz that sold sex toys and adult videos.
The arrest is said to have shocked residents throughout Bridgeport and Danbury.
The Associated Press contributed to this report.