Jury deliberating sentence for man in Texas chokehold death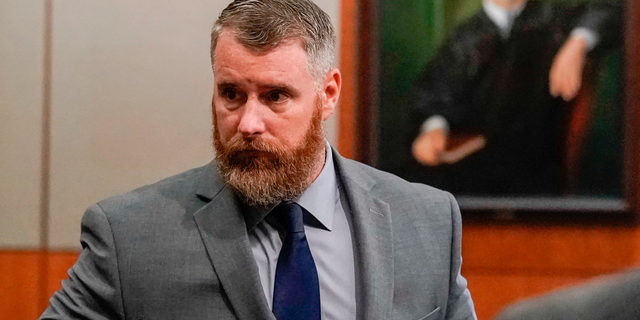 HOUSTON – Prosecutors asked a jury on Wednesday to sentence a man to life in prison for the strangulation death of another man whom he and his wife, an ex-sheriff's deputy, confronted outside a Houston-area restaurant.
A defense attorney for Terry Thompson asked jurors to find that he acted with sudden passion and was unable to control his anger, making him eligible for a lesser sentence of between two and 20 years in prison.
The jury convicted Thompson of murder on Monday in the death of 24-year-old John Hernandez. The sentencing phase of the trial began Tuesday.
Prosecutors said Thompson and Hernandez got into a confrontation in May 2017 after Hernandez began urinating in the parking lot of a Denny's restaurant. Thompson's attorneys said Thompson was only defending himself after being punched in the face and kept Hernandez subdued only until he stopped resisting.
Thompson's wife, former Harris County Sheriff's Deputy Chauna Thompson, arrived later at the restaurant and helped subdue Hernandez. Chauna Thompson was off-duty at the time and later fired from the sheriff's office. She faces a murder trial in April.
Chauna Thompson, 46, was in the courtroom as her husband's attorney, Scot Courtney, asked jurors on Wednesday during closing arguments in the trial's punishment phase for a sentence that would allow his client to one day return to his family. He described Thompson, 42, as someone who was friendly, hard-working and dedicated to his children.
"Terry Thompson is a good man. Did he make a bad decision and a bad mistake? There is no question of that," Courtney said.
But prosecutor John Jordan told jurors that Thompson didn't deserve their mercy. He said Thompson has a history of losing his temper and assaulting his children.
Jordan said there was no sudden passion in Thompson's actions as he confronted Hernandez for 14 minutes, including keeping him in a chokehold for more than three minutes, even after Hernandez had signaled he was no longer resisting.
"What mercy did he have when his own wife got to the scene and said, 'Get off,'" Jordan said. "How in the world can you give him what he was not willing to give to another human being?"
Hernandez died at a hospital three days after the confrontation. A medical examiner ruled he died of lack of oxygen to the brain caused by strangulation and chest compression.
Hernandez's family has remained critical of the investigation, saying deputies at the scene didn't interview potential witnesses and initially tried to have an assault charge filed against Hernandez. Hernandez's family has filed a wrongful-death lawsuit against the Thompsons, asking for at least $1 million in damages.
This was the second time Thompson's case was before a jury. His first trial in June ended with a hung jury.
___
Follow Juan A. Lozano on Twitter at www.twitter.com/juanlozano70