Juror removed in Aaron Hernandez murder trial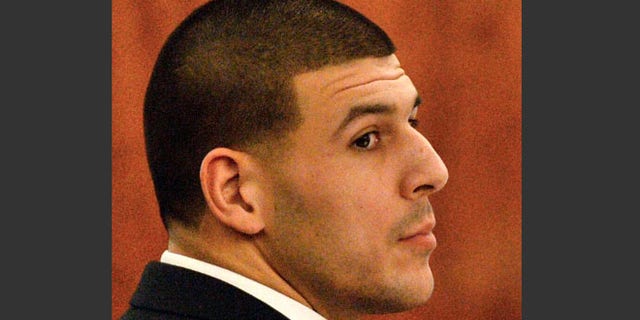 FALL RIVER, Mass. – The judge overseeing the murder trial of former New England Patriots player Aaron Hernandez has removed a juror, saying there was evidence she had spoken about the case in the last few years and had an early interest in being seated on the panel.
Bristol County Superior Court Judge Susan Garsh dismissed the juror Tuesday afternoon after questioning her individually and closing the courtroom to hear evidence on the matter.
After a closed-door hearing that lasted more than 90 minutes, Garsh said there was credible evidence the juror specifically discussed an opinion about the case, including that it would be hard to convict Hernandez without the murder weapon. She said the juror also discussed several items of evidence that the court has ruled are inadmissible in this case.
"Over the last few years, the juror has expressed an interest in serving on this particular jury," Garsh said. "There is credible evidence that the juror has attended more Patriots games than were disclosed on the questionnaire."
Hernandez listened as Garsh spoke and tapped his thigh with the palm of his hand.
"Discharge of the juror is indeed in the best interest of justice," Garsh said.
It wasn't immediately clear what the judge would do about the dismissed juror's spot.
Previously, there were 18 jurors on the panel. Six of those will be randomly chosen as alternates immediately before deliberations begin.
The former Patriots standout is accused of the June 2013 killing of Odin Lloyd, a semipro football player who was dating his fiancΘe's sister. Hernandez, 25, had a $40 million contract with the Patriots when he was arrested.
Proceedings began last week but were suspended Monday when a snowstorm hit. Tuesday was the first day back at the trial since the Patriots won the Super Bowl. The judge told jurors they were allowed to watch the game but had to leave the room or distance themselves if Hernandez's name came up.
The Tuesday morning session began with a lengthy private sidebar conversation among the judge, prosecutors and the defense. After about 20 minutes, the juror was called in.
In a separate murder case that has yet to go to trial, Hernandez was charged last year in Boston with killing two men in 2012 after someone spilled a drink on him at a nightclub. The judge has ruled that prosecutors in the Lloyd case cannot tell the jury about those slayings.
Hernandez faces life imprisonment if convicted of killing Lloyd.