Judge sets November hearing in Nevada dog torture, killing case; protesters rally at court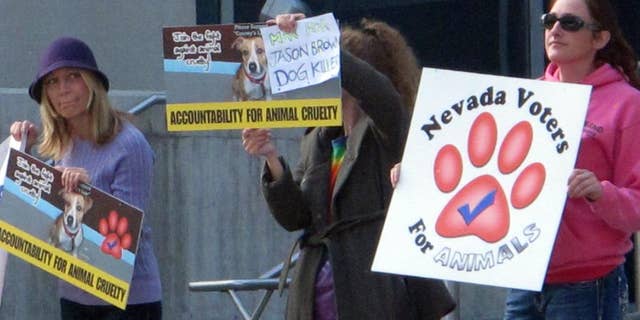 NEWYou can now listen to Fox News articles!
RENO, Nev. – Animal rights activists rallied outside a courthouse before a judge set a preliminary hearing next month for a 24-year-old man accused of beheading and dismembering several dogs.
Jason Brown faces seven felony counts of willfully torturing and killing dogs and two counts of possessing methamphetamine. If convicted of all counts, he could face more than 20 years in prison.
A half-dozen members of Nevada Voters for Animals said they were demonstrating in support of the maximum punishment if Brown is convicted. Outside court Thursday in Reno, they waved signs at passing traffic that said, "Accountability for Animal Cruelty."
Justice of the Peace Patricia Lynch set Brown's preliminary hearing for Nov. 18.
His lawyer, John Oakes, didn't immediately return a telephone call or email seeking comment