Judge recommends retrial for El Paso man, 18 years after murder conviction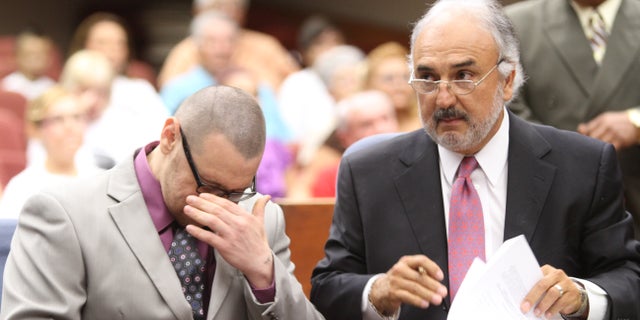 NEWYou can now listen to Fox News articles!
An El Paso judge has granted a retrial recommendation for Daniel Villegas, who was convicted of a double murder 18 years ago.
Villegas, 35, was given a life sentence for the 1993 drive-by double murder of Armando "Mando" Lazo and Robert England. On Thursday, Judge Sam Medrano Jr. threw that sentence into question by recommending a new trial.
"Pandemonium in the courtroom erupted when the judge gave his decision. I couldn't hear myself when I tried to tell Daniel how strong this recommendation was," Villegas' attorney Joe Spencer, told FoxNews.com on Thursday after the judge's ruling.
"He said he was excited. He said he felt like he was dreaming," Yolanda Villegas, Daniel's mother, told FoxNews.com.
"I'm really excited, and grateful, and happy, and relieved that the judge made the recommendation the way he did," Villegas' sister, Michelle Pena, told FoxNews.com.
The new trial was recommended because of insufficient counsel, as well as coerced and unreliable confessions, according to the Medrano's recommendation. Villegas' initial court-appointed attorney, John Gates, only had 60 days to prepare for trial. Gates provided an affidavit, telling the court that he provided insufficient counsel.
"This Court's recommendation of reversal is based on the numerous and inexcusable mistakes and omissions committed by the State of Texas, as well as defense counsel, that have harmed Villegas over the last nineteen years," Medrano wrote in the motion released Thursday.
Villegas has some powerful people behind him. Aside from two local lawyers, the Center for Wrongful Convictions of Youth at Northwestern University is working on the case.
"It's the best thing we could have gotten," Spencer said.
Now, the case moves to the state's criminal appeals court in Austin, where a judge may grant a retrial.
While the recommendation isn't a guarantee of a hearing, Spencer said it's likely:
"We're cautiously optimistic about a retrial," Spencer continued.
John Mimbela is the man behind it all -- he's invested over $200,000 in proving Villegas' innocence.
"Everyone is just overwhelmed -- we've been waiting for 18 years," Mimbela told FoxNews.com.
"This kid was slapped and beaten into a confession," Mimbela said in an earlier interview. Mimbela cited a lack of evidence towards Villegas' conviction, as well as forced and then retracted confessions. "These overwhelming facts were never presented."
In last year's hearings, Rudy and Javier Flores were pointed to as the murderers by the defense. They allegedly told a witness that Villegas was in jail for a crime they did. Javier is deceased and Rudy is serving jail time for federal drug charges.
Jesse Hernandez, Juan Carlos Medina and murder victims Armando "Mando" Lazo, 18, and Robert England, 17, were walking along Electric Avenue when a car pulled up, allegedly containing Villegas. Hernandez and Medina fled, but Lazo and England were left dead, reportedly shot by a rival gang.
"I believe with all my heart he is innocent," Hernandez told FoxNews.com in an interview last week. "I always thought I knew who else might have done it from the beginning. I had never heard of Daniel before."
"It's a pillar of character to see that this man still has faith in the court system," Spencer told FoxNews.com.