Josh Romney, Mitt Romney's son, helps family after car crash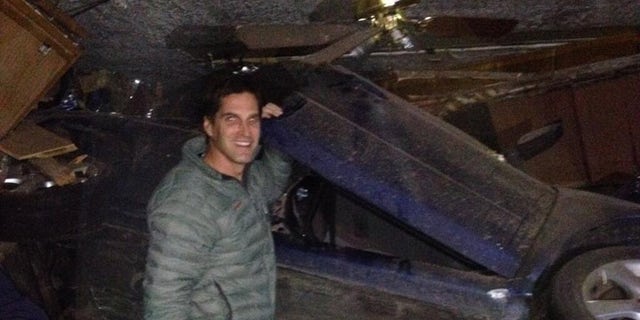 A family who miraculously survived a high-speed car crash into a Utah home Thanksgiving night encountered another surprise when Josh Romney, son of Mitt Romney, was there to help them, authorities said.
A Subaru Impreza carrying a family of four drove through a stop sign and crashed into the living room of a home in Holladay shortly after 8 p.m., said Lt. Justin Royal of the Unified Police of Greater Salt Lake.
But by the time police arrived, they discovered Josh Romney, the 38-year-old son of last year's Republican presidential candidate, helping the family out of the car, Royal said.
At the time of the accident, Romney was leaving Thanksgiving dinner with his parents and family and had just exited I-215 south when he witnessed the crash, he said in a statement on Friday.
"I drove to the accident site and entered the home where the car had come to a stop on its side," he said. "I opened the car door and spoke with the four passengers inside the car. Miraculously, they appeared to have no major injuries. I was able to help each of them get out of the car and lift them down to the ground."
Romney then took a picture at the accident scene, which he later posted to his Twitter account.
The car's driver, a 44-year-old man, apparently suffered a medical problem after coming off I-215, Royal said. Drugs and alcohol do not appear to be factors in the crash, Royal said, adding that the investigation is still ongoing.
The family members in the car were treated at the scene and released. A man who was downstairs in the home at the time of the accident was also uninjured, Royal said.
Royal praised the aid of the former Massachusetts governor's son.
"It's very commendable when one citizen will get out to help another," Royal said.
But Romney downplayed any heroism on his part.
"What I did to help the people involved in the accident is what anyone else would do who witnessed such a potentially dangerous situation," he said.