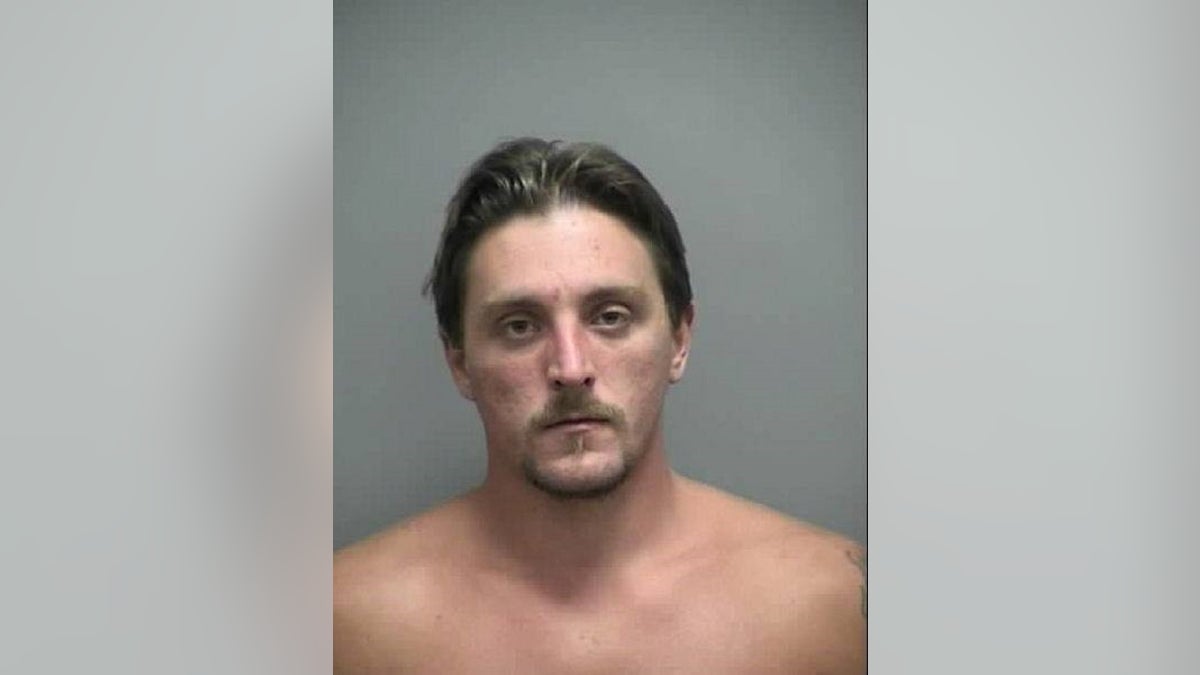 The Wisconsin man who allegedly stole a cache of firearms and sent an anti-government manifesto to President Donald Trump said from jail he "doesn't know" where some of the weapons are.
"They're buried, okay? I don't know," suspect Joseph Jakubowski told WTMJ from jail. "Honestly, I give you, with all the blood in my body. I buried them and I don't know where. I don't know, woods look all the same."
Jakubowski, 32, broke into a gun store near Janesville and stole 18 guns, two silencers and ammunition, and mailed the manifesto to the White House on April 4, investigators alleged.
His burned vehicle was found a few miles from the shop. Jakubowksi also sent the rambling, threatening manifesto to about two dozen other people before going on the run, authorities claimed.
Jakubowski was arrested in rural Vernon County, Wisconsin, on April 14, after a retired school counselor found him camping on his property and calmly talked to him before calling authorities.
POLICE: COP SHOT IN UPSTATE NY, SUSPECT BARRICADED IN HOME
Authorities said they've found five of the stolen weapons - but an automatic weapon and 12 additional handguns might never be found.
They believe Jakubowski may have traded weapons to get a ride to Vernon County, WTMJ reported.
Jakubowski said that he "did get a ride in the beginning." He didn't mention making a weapons trade to do so, according to the station.
Jakubowski's arrest ended fears over when and where he could possibly stage an attack. While he was on the run, authorities said they would offer extra security to House Speaker Paul Ryan and Ryan's family, Fox News reported last month. Ryan is a native of Janesville.
Jakubowski told WTMJ on Friday he had no plans to harm the public while on the run.
GEORGIA BURGLARS ON THE RUN ARE KILLED AFTER CAR CRASHES INTO POND
Jakubowksi said he intended to go to North Dakota "to get off the grid, to go into the wild, to disappear." He blamed the media for stoking public fear and said he wanted to be free "of society, the system, government, all of it. It's all I wanted to do."
The manifesto was proof he had no violent intent, he said. According to Jakubowski, if the media didn't exist to tell people about what his assumed thoughts were, people would not have been scared.
"I ain't trying to hide nothing now, because if anybody seen the title of my letter, it said 'honor, dignity, truth,' that's what I stand for, that's what I'm fighting for that's exactly with the government, this system is destroying," Jakubowski said.
During the manhunt, authorities said Jakubowski may have had an accomplice. But Jakubowski has claimed that he was on his own.
Jakubowski has pleaded not guilty to state and federal charges related to the burglary. He's being held at the Rock County Jail in a high-security area away from other inmates, and is due back in court next month.
The Associated Press contributed to this report.