Job openings fall for second straight month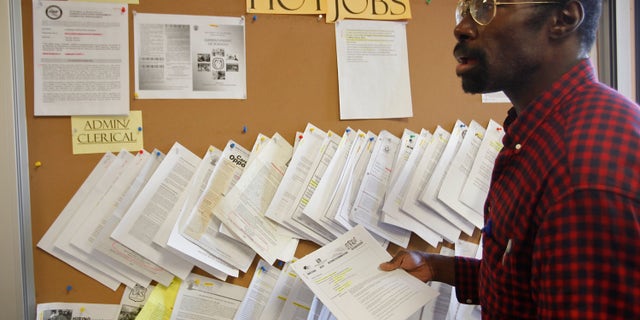 NEWYou can now listen to Fox News articles!
WASHINGTON – Employers posted fewer jobs in December, the latest evidence that businesses are not ready to step up hiring.
The Labor Department said Tuesday that employers advertised nearly 3.1 million jobs in December, a drop of almost 140,000 from November and the second straight monthly decline. That's the lowest total since September.
The report provides an indication of future hiring patterns because it can take several months to fill many jobs.
Openings have risen by more than 700,000 since they bottomed out in July 2009, one month after the recession ended. That's an increase of 31 percent.
Analysts expect companies will start hiring again soon, noting that other data suggests the economy is improving. Consumers are spending more, layoffs have slowed and Dow Jones industrial average is above 12,000.
Also, a separate report from the National Federation of Independent Business on Tuesday said confidence among small employers is at the highest level since the recession began in December 2007.
"We expect (job openings) will be bouncing back in the months ahead," said Dean Maki, chief U.S. economist at Barclays Capital.
For now, openings are still far below the 4.4 million available jobs advertised in December 2007.
Nearly 14.5 million people were out of work in December. As a result, on average there were 4.7 people competing for each available job, about the same as in November. That's below the ratio of 6.3, reached in November 2009, the highest since the department began tracking job openings in 2000.
In a healthy economy, the ratio would fall to roughly 2, economists say.
Job openings fell sharply in construction to 28,000, from 91,000 in November. That could reflect weather-related shutdowns of building projects, Maki said.
The NFIB said its optimism index rose to 94.1 in January, from 92.6 the previous month. That's the highest level in three years, but still below levels that are consistent with a healthy economy. The average reading before the recession was 100, the NFIB's report said.
"Overall, a clear step in the right direction," said Ian Shepherdson, an economist at High Frequency Economics. But the NFIB survey shows small companies are still weaker than larger firms, Shepherdson said, which are benefiting from overseas demand for U.S. goods.
In another positive sign, the Conference Board said last week that online job postings jumped 10.2 percent in January, to 4.27 million. Health care, computer services, sales and office support positions all saw big gains.
The figures follow a mixed jobs report released last week, which showed the unemployment rate fell sharply to 9 percent in January from 9.4 percent the previous month. The rate is down from 9.8 percent in November, the steepest two-month fall in more than 50 years. But the report also found that employers added a net total of only 36,000 jobs, far below what's needed to consistently reduce unemployment.
The department's report, known as the Job Openings and Labor Turnover survey, or JOLTS, counts number of jobs advertised on the last business day of the month.
Job openings dropped sharply in professional and business services, a category that includes temporary help agencies. They also fell in construction, manufacturing, and in education and health services.
Job openings rose in trade, transportation and utilities, and in retail.