Jaguar escapes enclosure at Texas zoo, attacks spider monkey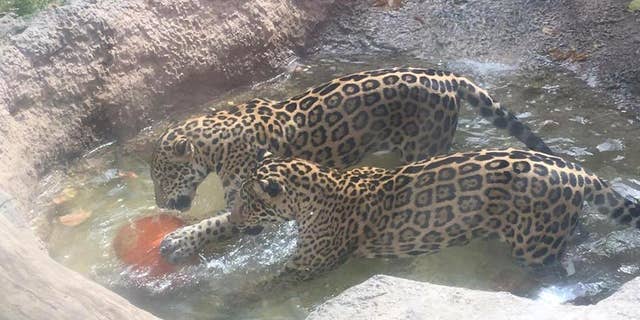 A jaguar escaped its enclosure at a Texas zoo on Monday and attacked a spider monkey in the neighboring pen -- so severely that workers had to euthanize the monkey.
Staff members at Abilene Zoo found Estrella, the 2-year-old jaguar, out of its enclosure and on top of a spider monkey just after 8 a.m., KIDY reported. They tranquilized the jaguar in 40 minutes.
"Staff called an animal escape code over the zoo raise, with both veterinary staff members and members of the zoo firearms team responding," Bill Gersonde, the executive director at Abilene Zoo, said.
WILD COYOTE WANDERS INTO DETROIT ZOO
The spider monkey was later euthanized after suffering serious injuries, Gersonde added.
It's unclear how the Estrella escaped its cage. The doors were locked when staff members arrived. The zoo promised to investigate.
Estrella, and a sister named Luna, arrived at Abilene Zoo about a year ago. The jaguars reportedly never had an incident of trouble before Monday.
Just last week, the jaguars celebrated their second birthday.