Jacksonville shooting victims remembered as talented gamers
NEWYou can now listen to Fox News articles!
A father who reportedly competed in the "Madden" tournament to support his family and a former high school football player were identified as the two people killed Sunday when a crazed gunman opened fire inside a gaming bar in Florida before turning the gun on himself.
Taylor Robertson, 27, and Eli Clayton, 22, were identified by members of the gaming community, family members and others as the two men who were shot and killed while participating in the "Madden NFL 19" gaming tournament held at a bar in Jacksonville Landing, which shares its space with a pizzeria.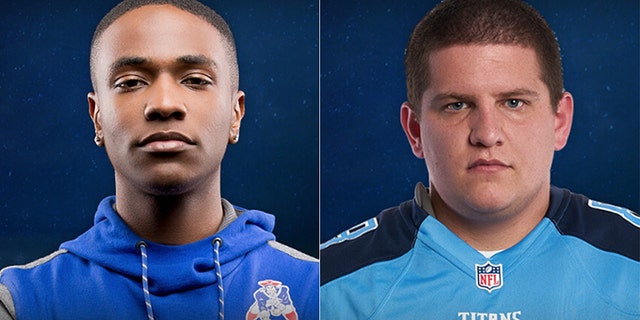 David Katz, a 24-year-old competitor in the tournament, opened fire inside the establishment, killing two while wounding 10 others, police said. Katz died from a self-inflicted gunshot wound.
FBI SWARMS FAMILY HOME OF JACKSONVILLE LANDING GUNMAN DAVID KATZ
Electronic Arts, which develops "Madden," tweeted that authorities confirmed the deaths of Robertson and Clayton in what the company called "an inconceivable tragedy."
"Many of us at EA knew Elijah and Taylor well, and their positive, competitive spirit and respect for other players were evident to everyone," the company said. "They earned the admiration of all who watched them compete, and we will miss them greatly."
Gaming sponsor Dot City Gaming released a statement identifying Robertson as one of the victims. The husband and father of a young son went by the name "Spotme" and "SpotMePlzzz" and was a former football star at James Monroe High School in West Virginia, Metro News reported.
"We are shocked and deeply saddened by the senseless violence in Jacksonville and the tragic deaths of Dot City Gaming team member, Taylor 'SpotMePlzzz' Robertson, and Eli 'Trueboy' Clayton," Dot City Gaming tweeted. "They were great competitors and well-loved members of the 'Madden' community. Our thoughts and deepest sympathies go out to their families, loved ones, and all of those affected by this tragedy."
According to his profile on EA Sports, Robertson had "the skill to completely take over any 'Madden' tournament" and won last season's "Madden Classic."
"It's been awhile since he's won an EA Major, but his potent offensive talent paired with his skill on defense makes him one of the toughest opponents in competitive 'Madden,'" his profile read.
Robertson, from Ballard, West Virginia, won more than $80,000 in prizes in head-to-head live events, his profile stated. The 27-year-old competed in the gaming tournament to earn money for his family, "Madden" community member Eric Ray wrote on Twitter.
"Spotme always said he went to these events to help further support his family. Always spoke about his wife & newborn and how he wanted the money to better their lives. I'm so angry right now," Eric Ray tweeted Sunday.
Calabasas High School football team in California on Sunday identified Clayton — who was known in the gaming community as "True" or "Trueboy" — as the second person killed at the gaming tournament. Clayton, from Woodland Hills, Calif., was a former football player at the high school and turned 22 in June.
"Our hearts are broken as we learned that former Calabasas Football player @True__818 (Elijah Clayton) was senselessly murdered today during the mass shooting in Florida. We send our love, condolences, and deepest sense of sorrow to Elijah's Family and Friends," CHS Coyote Football tweeted.
On his "Madden" profile page, Clayton was described as "consistently one of the best in competitive 'Madden.'"
"He's a frequent face in EA Majors, but has been the victim of some early exits. This season, True didn't make it beyond the groups stage of the Classic, didn't qualify for the Challenge, and was eliminated just one game into the Club Championship. Despite a rough season, True remains one of the best around and can potentially win it all when it's done," Clayton's EA Sports profile read.
JACKSONVILLE MADDEN TOURNAMENT TARGETED BY GUNMAN WAS EARLY QUALIFIER
Clayton said in an April article on EA Sports he's "really easy to get along with" and isn't "a troublemaker."
"I'm always laughing and joking around. I'm just me, a cool dude. There's really nowhere to go but up, honestly," Clayton said.
Eric "Problem" Wright, a fellow competitor, tweeted he was "crying and in so much pain" over the death of Clayton, "a young man" who went through his "ups and downs."
"Not just 'Madden,' but in his every day life. He really changed for the better and to see his life taken from him.... for what?" Wright wrote online. "Heartless individuals in this world. Love u True. May you rest in peace my brother."
Clayton reportedly was spotted in a video of the competition that widely-circulated earlier Sunday. Livestreaming on the platform Twitch, he was seen both in real life and playing the game on screen during the tournament as the shots rang out.
Wright also remembered Robertson as a "brother" of the competitive "Madden" gaming community.
Robertson and Clayton were killed "all over a videogame," Wright said. "Two of our brothers are gone man and its so disturbing. One of the most tragic days ive [sic] experience. This community is like family. Broken."
A GoFundMe page was set up to raise money for Robertson and Clayton's families.
The shooting took place in the heart of the city's downtown where there's a collection of restaurants and shops. Jacksonville Landing also hosts concerts and other entertainment.