'It's horrendous': Teen girl who allegedly led McDonald's beatdown charged as adult
A 16-year-old girl with a frightening rap sheet is due in court Friday, where she is being charged as an adult for her alleged role in a horrific, gang-style beatdown in a Brooklyn McDonald's that was caught on video that went viral.
Aniah Ferguson, who has ties to a street gang and is the suspected ringleader of the vicious attack of a pint-sized classmate was arrested Thursday and due to be arraigned Friday. She was one of the six girls who savagely attacked the 15-year-old victim Monday as a crowd watched and even cheered, MyFoxNewYork reported.
"This type of behavior is not acceptable in any society."
Workers at the Brooklyn McDonald's called 911, but apparently no one in the crowd tried to help. The Daily News reported that Ferguson, who was arrested Thursday, was charged as an adult. The video allegedly shows her pounding on the victim with her fists and then stomping on her when the victim falls to the ground. The paper said Ferguson kept up the onslaught even after her shirt came of, leaving her in a purple bra.
"This type of behavior is not acceptable in any society," NYPD Commissioner Bill Bratton said.
Brooklyn Distirct Attorney's Office spokeswoman Helen Peterson told FoxNews.com Ferguson is being charged as an adult.
MyFoxNewYork said Ferguson has been arrested six times since she turned 16 last July.
In February cops arrested her for stabbing her brother in the arm inside their Brooklyn home. The Daily News said she was sprung from jail six days later after copping to a disorderly conduct charge.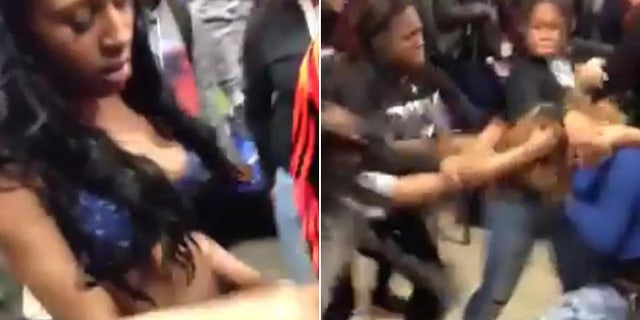 In October cops arrested her on an assault rap for allegedly punching her grandmother in the face. Her grandmother obtained an order of protection against her, but she was arrested twice for violating the protection. In one of those arrests, she allegedly tried to bite one of the arresting officers.
The News said Ferguson walked out of a Brooklyn police station Thursday night wearing a Rolling Stones T-shirt and a colorful silk scarf around her head.
"I'm her mother and I'm not defending her," Ferguson's mother told the paper, while declining to give her name. "I didn't raise her like this. I don't know why she did it."
Ferguson and the victim were classmates at Erasmus High. Police said others were being sought in the assault.
The victim suffered black eyes and bruising. She returned to the hospital Wednesday after collapsing at home.
MyFoxNewYork said the assailants are believed to be part of a street gang called the Young Savages.
The victim has refused to finger her attackers to police or say why she was targeted. She appeared to throw the first punch in the video.
Ferguson faces gang assault and robbery charges. She is due in court Friday for arraignment.
New York Mayor Bill de Blasio condemned the savage attack
"The young ladies should be prosecuted and I believe the video evidence may be sufficient for that," the mayor told reporters. "It's horrendous that a young girl would be attacked in such a fashion."