It's Getting Ugly in SC, NV; Jon Scott Goes Inside Iconic TWA Terminal at JFK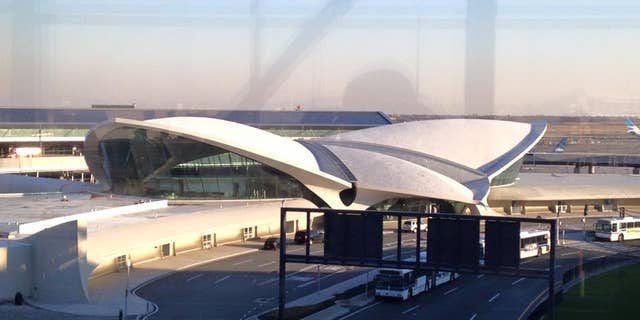 NEWYou can now listen to Fox News articles!
It's getting ugly in South Carolina.
Donald Trump waging a verbal war against Ted Cruz and Jeb Bush.
Trump released a statement calling Ted Cruz a liar. He also doubled down on his attacks on Jeb Bush and what he calls the failures of former President George W Bush as President Bush began campaigning for his brother in South Carolina.
Ted Cruz has unleashed a slew of new anti-Trump advertising.
Zeke J Miller and Philip Elliott write in Daily Beast:
Donald Trump has a very simple message: Ted Cruz is a dirty, rotten, no-good, Canadian liar. To hammer that point home, he used the words lie, lying and liar six times in 90 seconds during one question he took from reporters on Monday. At other points, the real estate mogul called the Texas Senator dishonest, unstable and, for good measure, a Canadian. "He's a lying guy. A really lying guy. Some people misrepresent. This guy is just a plain-out liar. In fact, I felt better because Marco Rubio called him a liar the other night on stage," Trump said. "I felt so much better. I said, 'Good, a politician called a politician. Now I can call him a liar.'" Faced with millions in negative ads on South Carolina airwaves from Cruz and former Florida governor Jeb Bush's super PAC, Trump seemed to be on the defensive. Perhaps feeling the pressure, he called on Cruz to take down his ads — or face a lawsuit over his birthplace. It was one of the most transparently opportunistic and bullying moments of Trump's already precedent-defying campaign.
"My only worry about South Carolina is that my opponents lie," Trump said, revealing a crack in his signature confidence. "Especially Cruz. He's the single biggest liar I've ever seen."
Ed O'Keefe Philip Rucker write in The Washington Post:
Former president George W. Bush made a folksy and resolute return to the political arena here Monday night after a seven-year hibernation, trying to enliven his brother's flagging campaign and stop Republicans from coalescing around front-runner Donald Trump.
Though he never uttered the billionaire mogul's name, Bush delivered an unmistakable rebuke to Trump's candidacy ahead of next Saturday's critical South Carolina primary by touting the importance of humility in leadership and warning that "bluster" and "theatrics" must not be mistaken for strength.
"Americans are angry and frustrated, but we do not need someone in the Oval Office who mirrors and inflames our frustration," Bush said. He added, "Strength is not empty rhetoric. It is not bluster. It is not theatrics. Real strength, strength of purpose, comes from integrity and character."
In another implicit contrast with Trump, Bush said that his brother was "a man of deep and humble faith that reveals itself through good works, not loud words." He then said, "All of the sloganeering and all of the talk doesn't matter if we don't win."
Hillary Clinton seems to be more vulnerable than once thought in Nevada.
Here's how the Washington Post put it today:
Until quite recently, Clinton's campaign saw Nevada as a chance for a face-saving victory after an anticipated defeat in New Hampshire. But that defeat turned out to be a trouncing. Now, the Sanders campaign is trying to prove that she can be beaten anywhere. Nevada, where the senator from Vermont is facing off against Clinton's allies among organized labor leaders and a Latino-heavy electorate, has become the first test.
Clinton's hopes rested on her overwhelming advantage among voters of color - part of a "firewall" her aides have claimed in many states that follow overwhelmingly white Iowa and New Hampshire on the electoral calendar. Sanders, however, is betting that his appeal among young and working-class voters, revealed so dramatically in New Hampshire, is strong enough to transcend race.
Meanwhile, Bill Clinton on the campaign trail.. is increasingly seen as a mixed blessing.
Lots of live events for us to monitor today.
1000EST -- Dr Ben Carson holds a press conference. Spartan Felt, Inc., Roebuck, SC. LIVE via LiveU
1000EST -- OH Gov Kasich holds a town hall meeting. Livonia GOP Field Office, Livonia, MI. LIVE via LiveU
1000EST -- Sen Cruz makes a military speech. USS Yorktown, Mt Pleasant, SC. LIVE via LiveU
1030EST -- Fmr FL Gov Jeb Bush tour FN Manufacturing and holds a town hall meeting. Columbia, SC. LIVE via LiveU
1200EST -- Dr Ben Carson attends lunch and holds a town hall meeting with the Cherokee County GOP. Daddy Joe's BBQ, Gaffney, SC. LIVE via LiveU
1210EST -- Sen Rubio holds a town hall meeting. Dorchester Boat Club, Summerville, SC. LIVE via LiveU
1000EST -- Sen Sanders attends a prayer breakfast. Allen Univ, Columbia, SC. LIVE via LiveU
1130EST -- Sen Sanders holds a town hall meeting. Univ of South Carolina, Columbia, SC. LIVE via LiveU
President Obama is vowing to push ahead with plans to fill the vacancy left by the sudden death of Supreme Court Justice Antonin Scalia.
The New York Times today writing,
Senate Republicans on Monday began to close ranks behind a vow by Senator Mitch McConnell, the majority leader, to block consideration of any nominee to replace Justice Antonin Scalia, who died over the weekend, for the remainder of President Obama's term.
Senator Rob Portman, Republican of Ohio, who faces re-election this year, said in a statement that the Senate should follow what he called ''common practice'' to stop acting on lifetime appointments during the last year of a presidential term. Senator Patrick J. Toomey, Republican of Pennsylvania, agreed, leaving nearly every vulnerable Republican incumbent backing Mr. McConnell's pledge.
Justice Scalia's death has given Mr. Obama a tantalizing opportunity to reshape the Supreme Court, but cementing a lasting legacy on American jurisprudence will present a familiar challenge: breaking the will of Republicans.
Weather is all over the place right now. In California they are in the middle of a record-breaking heat wave with San Francisco hitting 77, and Los Angeles hitting the high 80's and even 90's! So much for drought relief.
On the East Coast, a messy mix of snow and ice has been replaced by 50 degree weather in the Northeast. The Mid-Atlantic cleaning up after snow storms. Tornadoes reported in Florida and Mississippi.
President Obama holds a news conference from California this afternoon after wrapping a two day summit of Asian allies who are part of ASEAN.. Indonesia, Malaysia, the Philippines, Singapore, Thailand, Brunei, Vietnam, Laos, Myanmar and Cambodia. The two day summit has tackled the increasing aggression of China, and the threat from North Korea.
South Korea is warning about the possibility of a collapse of North Korea as the North steps up is military aggression against the world.
Markets are expected to surge at the open along with oil prices. Dow futures are up more than 250 points. Saudi Arabia, Russia, Venezuela and Qatar have agreed to freeze oil output as a glut continues to weigh on the price of oil. It's unclear if the production halt will slow the fall in oil and gas prices. More oil came on market when sanctions against Iran were lifted.
Fighting escalates further in Syria. Russia is denying it was behind an airstrike that killed at least nine at a hospital in northern Syria.
EU is considering new barriers to entry for refugees as several EU countries are overwhelmed by immigrants.
Taylor Swift's 1989 won album of the year at last night's Grammy's.
Be sure to tune in today for Jon Scott's in-depth look at the refurbishment of the iconic TWA terminal at JFK Airport in New York. Part I will air at 11:20am ET. Part II will air at 1:35 pm ET.
For more news, follow me on Twitter: @ClintPHenderson