'It' factor: California cops pose for viral photo inspired by horror film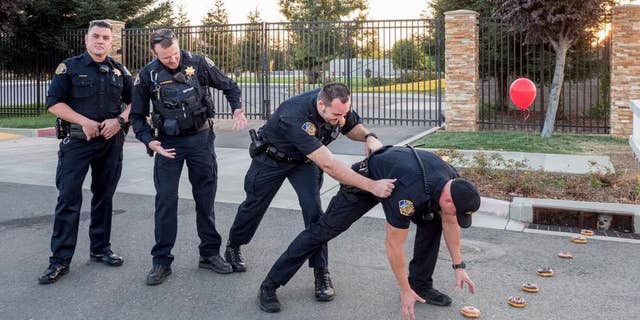 Move over Gainesville "hot cops" – these California police officers are getting the laughs, likes and shares for their parody photo of Stephen King's "It."
The Lincoln Police Department posted a photo on Friday showing four officers doing their rendition of the horror movie that hit theaters last week. The officers are seen following a line of doughnuts leading to a sewer grate with a red balloon tied to it.
"OK, Gainesville had the "hot cops" and Loudon had the "cop on a bucket" so the Lincoln (CA) Police Department decided to join the fun," the department wrote in the photo's caption. "Clown – 'Hey guys, I have donuts down here!'"
The post has amassed more than 132,000 reactions, 152,000 shores and nearly 14,000 comments as of Sunday morning.
"This is the best one yet! You win Lincoln Police!" one person commented.
"Always good when cops can laugh and poke fun at their own stereotypes! Lol," another person wrote.
For those who are unfamiliar with the book-turned-movie, Pennywise, the child-eating clown who lives in sewers, uses the red balloons as a calling card.
The viral photo follows the viral selfie by Gainesville police officers during Hurricane Irma recovery in Florida. Several police departments in the U.S. have since joined in on the fun and posted their own selfies.
The Gainesville Police Department also shared Lincoln Police Department's photo with the caption: They keep getting better and better."