Iraq Veteran Injured in 'Occupy Oakland' Clashes Now in Fair Condition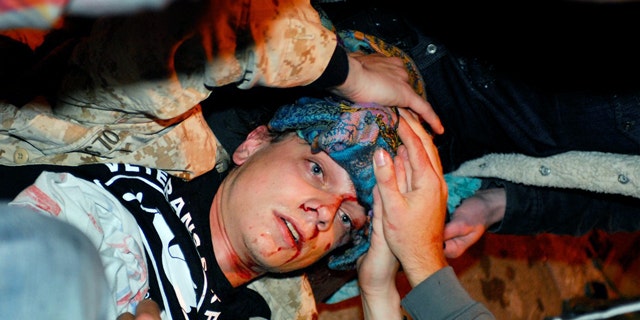 NEWYou can now listen to Fox News articles!
OAKLAND, Calif. – An Iraq war veteran seriously injured when protesters clashed with police at an "Occupy Oakland" rally had his condition upgraded to fair Thursday, as organizers called for a city-wide general strike.
Scott Thomas Olsen, a member of Iraq Veterans Against the War, was struck in the head with what appeared to be a tear gas canister during Tuesday's clashes between police and about 1000 people who refused to leave an encampment outside City Hall.
Olsen, 24, suffered a skull fracture and was rushed to the hospital with the help of fellow protesters, the San Francisco Chronicle said.
By Thursday morning, his condition had improved and he was now in fair condition, a hospital official told the paper.
"It's absolutely unconscionable that our citizens are going overseas to protect other citizens just to come back and have our own police hurt them," Joshua Shepherd, a six-year Navy veteran and friend of Olsen's told the San Jose Mercury News.
Following the violent clashes, police and city officials erected a chain link fence around Oakland's Frank Ogawa Plaza, saying the square would be open to protests but not for camping.
By late Wednesday night protesters had ripped down the fence, chanting "our park," according to the Mercury News.
"Occupy Oakland" organizers appealed Thursday via their website and Twitter account for a "city wide general strike" to be held Wednesday Nov. 2
"We propose we invite all students to walk out of school. Instead of workers going to work and students going to school, the people will converge on downtown Oakland to shut down the city," they said.
Organizers said if banks do not close, protesters will "march on them."
About 100 people have been arrested in Oakland this week. In Atlanta, 53 "Occupy" protesters were jailed for refusing to leave a public park.