Investigators: Argument caused shooting at Wash. state park that left 2 dead, 4 wounded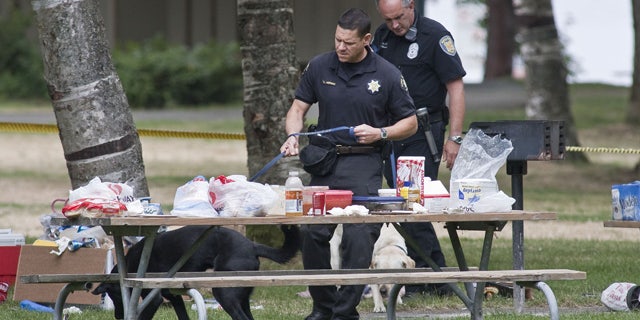 NEWYou can now listen to Fox News articles!
SEATTLE – A shooting at a state park near Seattle that left two dead and four wounded stemmed from an argument between two groups, one of which was celebrating a birthday party, investigators said Sunday.
King County Sheriff's Sgt. John Urquhart said killed in the shooting Saturday night at Lake Sammamish State Park were one man from each group: a 33-year-old from Kent, Wash., and a 30-year-old from Seattle.
The park is about 20 miles east of downtown Seattle.
One of the dead men was found with a gun on his body, while the other was not found with a weapon, Urquhart said. Their names were not released.
The violence erupted around 9 p.m. at the edge of the lake between the two groups, who were about 50 to 75 yards apart. Urquhart said investigators are still determining what the groups were arguing about and what caused the dispute to escalate into gunfire.
Six people were taken into custody, but so far no one has been booked into jail, Urquhart said Sunday.
The park, a popular gathering place for boating and watersports near the upscale suburbs of Bellevue and Issaquah, was closed Sunday while the investigation continued.
Urquhart said investigators at the scene have recovered four guns and at least 20 spent shell casing.
A park ranger alerted authorities to the shooting, placing an emergency call around 9 p.m. More shots were fired during the call. As police flooded the scene, they found parkgoers hiding in park buildings to get away from the gunfire.
Swedish Medical Center spokesman Ed Boyle told The Seattle Times that a 29-year-old man with gunshot injuries was treated at the hospital's emergency facility in Issaquah before being transferred to Harborview Medical Center in Seattle.
Urquhart said two other wounded men were also taken to Harborview, while the fourth was taken to Overlake Medical Center in Bellevue. A Harborview spokesman told The Times early Sunday that one man was in serious condition and the other two were in satisfactory condition. The names of the injured were not released.
Dawn Hilliker said she and her two teenage sons spent the day at Lake Sammamish State Park celebrating a friend's high school graduation. They were packing up their car to leave when they heard several loud bangs from 250 yards away.
"I thought some kids were setting off firecrackers, but 30 seconds later, I saw three cops driving down the street," her son, Austin Hilliker, told The Times. "I saw three people arrested, two of them no more than 20 feet from our car. It was super scary."
The family waited two hours to leave the park, as police stopped every vehicle on the way out, Dawn Hilliker said.