Intense storm floods Nationals Park dugout ahead of All-Star Game; lighting strikes Capitol dome
The dugout of the Washington Nationals' ballpark, which will play host to Tuesday night's MLB All-Star Game, flooded just hours before the start of the annual event, prompting concerns it could be rescheduled.
The game is slated to begin at 8 p.m. ET, however a flood warning from the National Weather Service remains in effect in the area until 6:30 p.m. ET.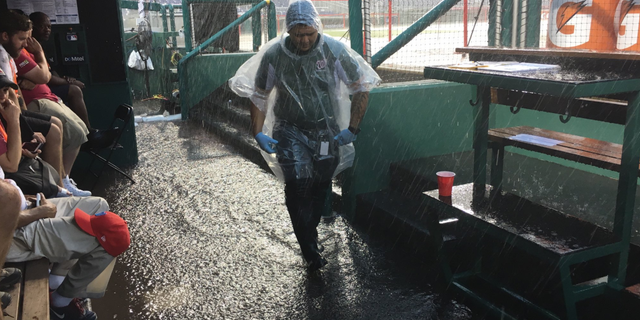 Videos posted online Tuesday showed torrential rains taking over the area. The Nationals' dugout was heavily flooded with roughly a foot and a half of water as trash cans were swept away just below the field.
Using chairs to form a bridge over the flooded water, the grounds crew were able to free those stuck in the dugout.
The All-Star Game, which is held at different ballparks each year, was last played in Washington, D.C. in 1969, according to The Washington Post. Coincidentally, the game that year — played on July 23 — was postponed a day due to heavy rains.
The ball field wasn't the only area in D.C. Tuesday to be hit by the fierce storm.
Blocks away from Nationals Park, the Capitol dome was hit by lightning, sparking a rumble that echoed throughout the Rotunda and Statuary Hall.
Water poured through the tunnel linking the Capitol with the Cannon House Office Building, restricting access between the two sites.
Fox News' Ray Bogan and Chad Pergram contributed to this report.