Inmate known for golf drawings cleared in decades-old murder case, says 'God kept giving me the strength'
An inmate who took the golf world by storm through lush drawings of courses and holes, laboriously crafted during his days behind bars in one of New York's most notorious prisons, is enjoying his first full day as a free man Thursday after his hobby helped get a decades-old murder conviction overturned.
Valentino Dixon, 48, walked out of the Erie County Court building in Buffalo on Wednesday afternoon following a judge's acceptance of a guilty plea from another man in the 1991 shooting death of a 17-year-old teenager in the western New York city.
"So many times I've come close [to giving up], but God kept giving me the strength to keep on and now I know why," Dixon told Golf Digest magazine after his release.
Dixon had been in prison for 27 years – most of them at Attica Correctional Facility. He was serving a 39-years to life sentence and a 2012 article that featured his artwork and fueled national interest about his plight stated he wasn't up for parole until 2030.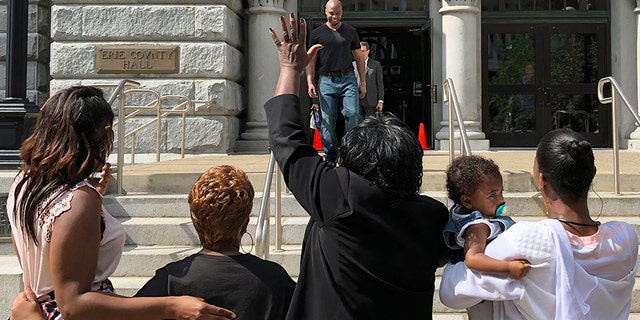 Of course, there's the fact that Dixon hasn't played the game of golf. Ever.
But during his time in prison, his lack of experience never stopped him from imagining his own courses and holes.
"I use a photograph as a starting point and then morph the image in my own way," he wrote in the 2012 Golf Digest feature. "Sometimes I'll find a tiny piece of reference material, like a tree on a stamp or mountains on a calendar, and then imagine my own golf course with it."
Dixon said he got hooked on golf-related drawings after an Attica warden brought to his cell a photograph of one of the most iconic holes in the sport – the par 3, twelfth hole at Augusta National, home of the Masters Tournament.
The former inmate said the warden asked him to sketch the photograph as a favor, and, after spending 15 hours using colored pencils to recreate the hole known as Golden Bell -- which is a recognizable sight to any golf fan – Dixon felt rejuvenated.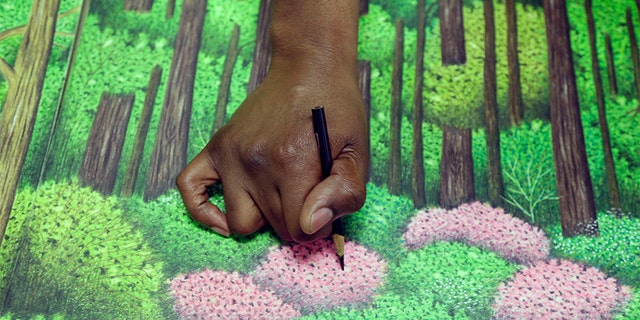 "I'd been getting bored with drawing animals and people and whatever I'd get out of National Geographic," he said. "After 19 years in Attica Correctional Facility, the look of a golf hole spoke to me. It seemed peaceful. I imagine playing it would be a lot like fishing."
Dixon continued drawing and continued to be profiled in numerous media outlets.
Some of the artwork is currently up on the wall at his mother's home. Other creations have been sold online. But most importantly, the drawings generated public interest in Dixon's case, eventually clearing the path for his release.
Dixon, the Erie County District Attorney's Office says, had been sentenced for the killing of Torriano Jackson, the attempted murder of his brother, Aaron, and the shooting of a bystander on Aug. 10, 1991 near a hot dog restaurant in Buffalo.
Dixon has always maintained he wasn't the shooter, and another man, 46-year-old Lamarr Scott, repeatedly has confessed to killing Torriano Jackson.
"Two days [after the shooting], LaMarr Scott, a guy I knew but wasn't close to, gave a statement to WGRZ television confessing to be the shooter and turned himself in to the police," Dixon wrote in the Golf Digest article, noting the shooting – which was preceded by a fistfight – was sparked by "romance drama among younger kids."
"Because my dad drove LaMarr downtown, much was made that he had coerced LaMarr into confessing. For murder? Please," Dixon added.
Yet, in front of a grand jury, Scott walked back his confession, the Buffalo News reported, and Dixon remained in custody.
Scott, according to a Golf Digest report, claimed prosecutors had pressured him into "changing his story by bringing his foster parents into the meeting room and threatening their well-being after they left."
In a 2002 sworn statement, he added that, after confessing to police about being the shooter, "I was told that they had who they wanted, and to leave the situation up to them."
But Christopher Belling, who prosecuted the case, disputed the account.
"[Scott] had his own lawyer, and I don't remember any foster parents being there…[Scott] came to the grand jury, and he told a different story. That was the story the grand jury heard, and that's the story they went with," he said in an interview with Golf Digest.
The outlet described the case Wednesday as "complicated, but on the surface it involves shoddy police work, zero physical evidence linking Dixon, conflicting testimony of unreliable witnesses, the videotaped confession to the crime by another man, a public defender who didn't call a witness at trial and perjury charges against those who said Dixon didn't do it."
Golf Digest reported that, over the years, lawyers representing Dixon have made several appeals for his conviction to be overturned and his daughter, Valentina, led a grassroots effort to raise money for her father's legal bills. Dixon has petitioned Gov. Andrew Cuomo's office for pardon or clemency and also received support through a documentary made by Georgetown University students taking a course on prison reform.
The Erie County District Attorney's wrongful convictions unit eventually investigated Dixon's case this year and interviewed around 30 people, including Scott and Dixon, according to the Buffalo News. Thirteen of those people, the newspaper says, implicated Scott or said Dixon was innocent.
"After reviewing this case, it became clear to me that Mr. Dixon should no longer continue serving a sentence for a crime he did not commit," Erie County District Attorney John J. Flynn said in a statement Wednesday.
The statement added that because of "newly-discovered evidence, there is no longer proof beyond a reasonable doubt that Dixon committed the shooting."
Scott pleaded guilty in Erie County Court Wednesday to counts of manslaughter and assault in the first degree and reckless assault in the third degree. He was already serving a sentence of 25 to 50 years for a 1993 armed robbery shooting that left the victim paralyzed and faces a maximum of 25 years when he is sentenced in late October on the charges in Dixon's case.
"There was a fight. Shots were fired. I grabbed the gun from under the bench, switched it to automatic, all the bullets shot out. Unfortunately, Torriano ended up dying," Scott said in court, according to the Associated Press. "I dropped the gun and ran and it was over and done with."
Scott added that he obtained the Tec-9 semi-automatic used in the shooting from Dixon and they drove together to the site where Torriano was killed.
The judge, Susan Eagan, upheld a charge of criminal possession of a weapon against Dixon, but said the 5 to 15-year sentence it carried has been satisfied by him.
And because of that, Flynn said Dixon is "not an innocent man," according to the Associated Press.
"Mr. Dixon is innocent of the shooting and of the murder for what he was found guilty of," Flynn told reporters, "but Mr. Dixon brought the gun to the fight. It was Mr. Dixon's gun."
Dixon, who received cheers in the courtroom after being told Wednesday that he was eligible for release, said he plans to continue drawing – and will fight for other prisoners in legal struggles.
"If you don't have any money in this system, it's hard to get justice because the system is not equipped or designed to give a poor person a fair trial," he said, according to the Associated Press. "So we have a lot of work ahead of us."
Dixon was met Wednesday by his daughter and her two 14-month old twins, who said to the news agency that she wants to take him shopping, buy him a cell phone and teach him how to use the Snapchat app. His mother said the group was going to head to Red Lobster for a meal and that "everybody's invited."
And his plans for today?
Making breakfast, lunch and dinner for his mother and grandmother.