Injured bald eagle found, treated in Washington, D.C., in time for July 4th celebrations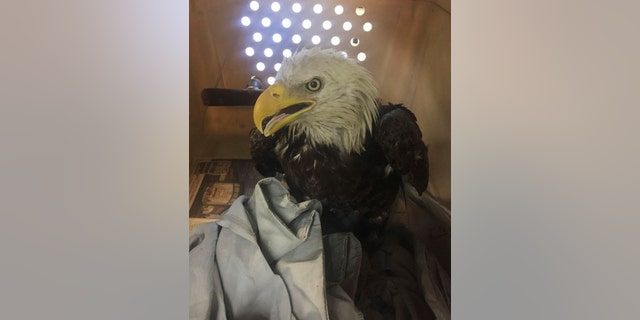 An injured bald eagle found in Washington, D.C., is on the road to recovery just in time for Fourth of July celebrations in the nation's capital.
The avian is suspected to be Justice, one half of the capital's famed adult bald eagle couple who have nested and raised their young for years in a tree at the Metropolitan Police Academy, Dan Rauch, a wildlife biologist for D.C.'s Dept. of Energy and Environment told the Washington Post.
The bald eagle, a national symbol of the United States, was found Saturday afternoon in the city's Southeast section after thunderstorms passed through the area.
"The adult bald eagle was demonstrating labored breathing, lethargy, and was unable to fly," according to the animal welfare group Humane Rescue Alliance, who responded to the scene and transported it to City Wildlife, a D.C. wildlife rehabilitation center, for treatment
The bird was "found grounded and wet from a rainstorm" but in "good body condition and eating well," City Wildlife tweeted Monday after conducting its examination.
The District is scheduled to host its annual "A Capitol Fouth" concert at the U.S. Capitol to celebrate Independence Day at 8 p.m. ET Tuesday.
President Donald Trump and first lady Melania Trump are also expected to participate in a fireworks viewing at the White House Tuesday night.
The Associated Press contributed to the report.