Indonesia extradites ex-Texas police officer sought in wife's murder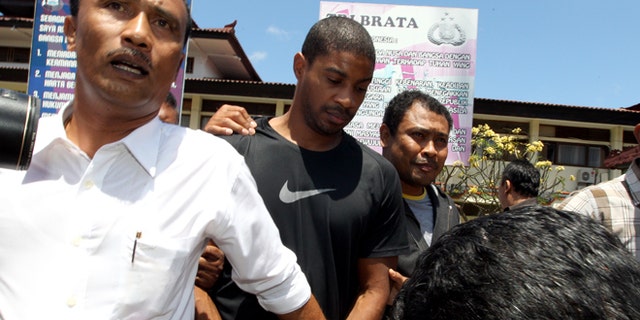 NEWYou can now listen to Fox News articles!
A former Austin, Texas, police officer sought in the murder of his pregnant girlfriend was extradited Wednesday from Indonesia to the United States.
VonTrey Jamal Clark who entered in July was deported through Ngurah Rai airport in Denpasar, the provincial capital of Bali resort island.
Clark, 32, was handed over to 13 agents of the FBI and was flown to Texas on a specially chartered plane from the bureau.
Bali police spokesman Hery Wiyanto said Clark arrived in Indonesia on July 19 on an American Airlines flight through Jakarta. He was then arrested in Canggu neighborhood in Bali on July 30 based on a red notice from Interpol.
He said Clark had moved repeatedly to avoid arrest. He was to have been captured earlier in a hotel in Kuta neighborhood, but he managed to escape and hired a villa in Cangu, where he was arrested.
Indonesian police have said Clark is a suspect in the Feb. 4 murder of Samantha Dean, who was found shot to death behind a vacant building. An autopsy indicated she was seven months pregnant.
Dean, 29, coordinated victims' services for the Kyle Police Department, serving a small city south of Austin in central Texas.
Formal charges have not been filed in her slaying.
Media in Austin have reported Clark joined the police department in 2012 and was fired in July for insubordination and neglect of duty. His lawyer has been quoted as saying the allegations regarding his job didn't merit a firing and the trip to Indonesia was not an attempt to flee.