Indiana's 'baby boxes' save abandoned newborns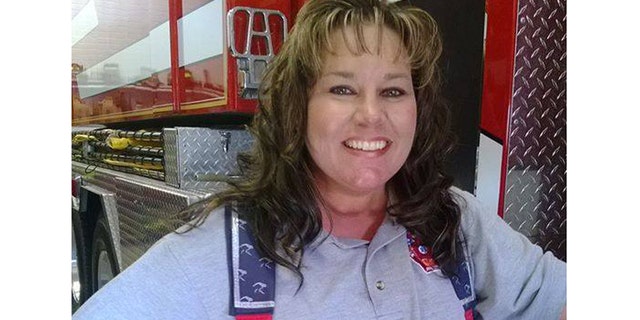 On an April night in 1973, a teenage mother, scared and alone, handed her newborn girl to a nurse at an Ohio hospital and walked out the door.
Forty-three years later, the woman abandoned as a child is on a national crusade to spare moms and babies the shame, pain and danger that can follow a newborn being left on church steps, in trash bins or out in the elements to die.
Monica Kelsey, of Woodburn, Ind., founded the Safe Haven Baby Boxes organization to install depositories around her state ensuring the safety and care of newborns who otherwise stand no chance.
As soon as the box, typically built into the exterior wall of a firehouse or hospital, is opened and a baby placed inside, a 911 alert is sent. Inside the box, the baby is protected in a climate-controlled, padded and locked container until help arrives. Motions detectors trigger a second call to 911, and paramedics arrive within minutes to take the baby to a hospital. Mothers are given an option to press a button that would ensure a third emergency call.
Two of the boxes are already operating in Indiana -- and the 43-year-old firefighter, medic and mother of three is working to expand their use in seven states, including California, New York, Illinois and Texas.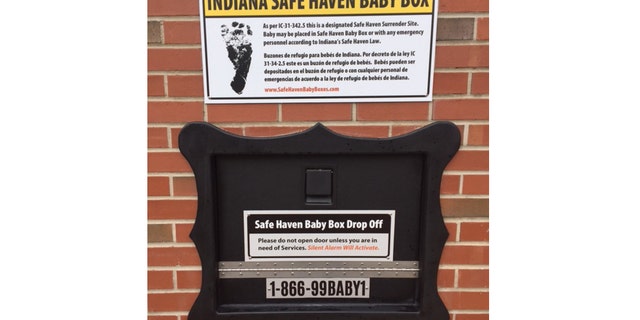 One baby has already been saved since the first boxes were installed.
"My life was saved so that today I may save others," said Kelsey, whose mother had been raped at 17 and who faced an agonizing choice at a time when abortion was illegal.
"My whole life growing up, I just wanted to wrap my arms around her because I knew that she loved me," Kelsey said. "We have given women another choice. I'm pretty proud of that."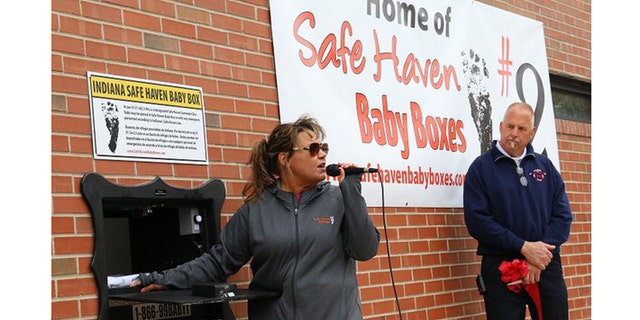 The first box was installed at the firehouse where Kelsey works in Woodburn on April 19, exactly 43 years to the minute after Kelsey was left at a hospital in the tiny Ohio town of Montpelier, she said. A second box is in Michigan City.
Kelsey said she first thought of the idea in 2013 while on a trip to South Africa, where she was speaking at a Capetown church with a "baby safe," a similar chamber for safeguarding abandoned newborns.
"I was so intrigued with this baby safe," Kelsey recalled. Upon returning to the U.S., she sketched a picture of what her box might look like and took it to a builder friend in Fort Wayne who "brought it to light."
"This is something that we've studied and made sure it's as
safe as possible," she said.
On the outside, the safe looks somewhat similar to a library book depository -- with a written notice in English and Spanish identifying it as a designated Safe Haven Surrender Site under Indiana state law, therefore exempting mothers from any criminal prosecution.
Next to the sign is a black-and-white imprint of a baby's foot -- a powerful symbol, Kelsey says, of the organization's mission.
The footprint is that of Amelia Grace Hope, whose infant body was found in Eagle Creek Woods in Indianapolis on Dec. 28, 2014. The unidentified girl, wrapped in a sweatshirt, was born a healthy 8 pounds, 6 ounces, according to the coroner, who ruled the infant died from animal bites to her arms and legs.
"We are giving her dignity in death because her parents didn't give her dignity in life," said Kelsey. "She will forever be known as the defender of the Safe Haven Law."
To Kelsey, her life has come "full circle" in the work she's dedicated to abandoned babies.
She said she found her biological mother seven years ago, when she was 36, and learned she was the victim of a brutal rape and never had more children.
"She had sought an illegal abortion but then changed her mind," Kelsey said.
The woman died a few years ago, at age 57, and Kelsey was with her in a hospital when she passed.
"She was with me when I took my first breath and I was there when she took her last," she said.
Cristina Corbin is a reporter for FoxNews.com. Follow her on Twitter @CristinaCorbin.