Indiana man arrested in February fire that killed woman, 85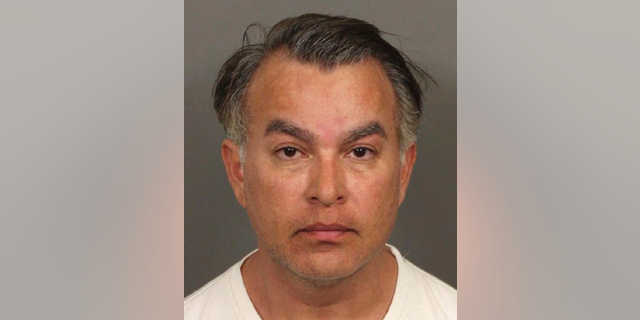 BLOOMINGTON, Ind. – An Indiana man accused of setting a house fire that killed an 85-year-old woman falsely claimed she was his mother and fled to California after her death to try to claim her estate, authorities allege in court documents.
Indiana State Police said Friday that Noel Montes Cazares, 48, was arrested late Thursday in Riverside County, California. Cazares is charged in Monroe County, Indiana, with murder and arson for a February house fire near Bloomington that killed Lerae Britain Moeller Bush.
A relative of Bush told investigators that her estate may be worth millions, court documents show.
State police said Bush had dementia and Alzheimer's, and was dependent on Cazares for food, transportation and clothing. Cazares also face charges of neglect of a dependent and obstruction of justice.
He remained jailed in Indio, California, on Friday and it wasn't immediately clear whether he has an attorney who could comment on his behalf.
Cazares told officers he arrived home Feb. 10 to find the house burning, but couldn't rescue Bush, whom he believed was already dead, The Herald-Times reported , citing court documents.
Cazares was treated for minor injuries after the fire at the house, which authorities described as garage-like, lacking functioning utilities, with no working appliances and furnished only with a sectional couch, an ottoman and a large television.
Cazares claimed Bush was his mother, but state police said in a statement Friday that investigators could find no records establishing their relationship and Bush's relatives told detectives that to their knowledge she never had children.
Friday's statement said investigators found a trust agreement in the name of Lerae Bush with one beneficiary, but that person's name had been removed and replaced with the name of Giovanni Bush — an alias used by Cazares.
A cousin who lives in Texas said Bush owned "an unknown amount of real estate properties across the United States, and assets in artwork and collectibles of high value in addition to her financial assets." The cousin said that "10 million dollars of wealth was an extreme understatement of Lerae Bush's financial value," court documents state.
A December 2000 profile of Bush in The Herald-Times described her as an aristocratic woman who was born in Chicago, grew up in Hollywood and spent her life surrounded by artists and musicians. She had been a photographer, was a national advocate against ear cropping of dogs and had worked as a high school teacher and college instructor in Hawaii.
The newspaper's story said Bush moved to Bloomington in 1989 and had hoped to transform her home there into a museum displaying the works of her late stepfather, Italian sculptor Edgardo Simone, who had worked in marble and bronze.
"My parents are gone, my husband is gone, no children, no brothers and sisters," she told the newspaper.
___
Information from: The Herald Times, http://www.heraldtimesonline.com