In perfect Lassie fashion, dog leads cops to injured canine pal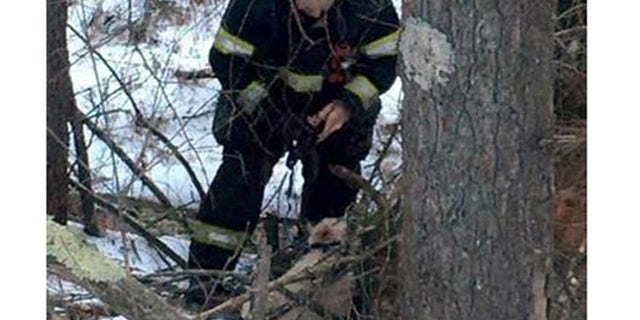 Cops and firefighters in western Massachusetts rescued an injured dog Tuesday in a Lassie-like adventure that starred the pooch's canine pal.
Jock, a 5-year-old Scottish terrier, approached an Orange Police Officer on Tuesday barking frantically and then led the officer across a field and down an icy, 30-foot embankment where Jock's half-sibling Annabelle had become entangled in the underbrush.
Firefighters used a ladder to free Annabelle who was bleeding and in shock, according to the Boston Globe. She was taken to a veterinarian for a checkup.
"Apparently, any dog in the right circumstance can turn into Lassie," Orange police said on their Facebook page.
The two dogs had run off hours earlier when their owner suffered a medical emergency at her home and was taken to the hospital. Police tried to catch Jock and Annabelle, but they kept running away.
With temperatures plummeting, Office Chris Bisceglia had returned to the neighborhood to to see if he could corral the dogs, the paper reported.
As he drove down the road, he spotted Jock in an open field. Jock was barking at him as if trying to get his attention.
Bisceglia followed as Jock ran across the field. The dog would run a short distance, look back, and bark again.
"He pretty much said, 'Hey, I need you over here,'" Animal Control Officer Jessica Arsenault told the paper.
At the top of the embankment, Bisceglia looked down and spotted Annabelle.
Jock watched from a blanket as the Orange Fire Department carried out its rescue.
"I got him on a leash and was going to bring him to my car and keep him warm, but he really didn't want to come," Arsenault told the Globe.
She said that once Jock and Annabelle got in her car, "they pretty much laid down and napped."
"I think they were relieved," she said.
The Associated Press contributed to this report.