Immigration agency: Jail freed man later charged with murder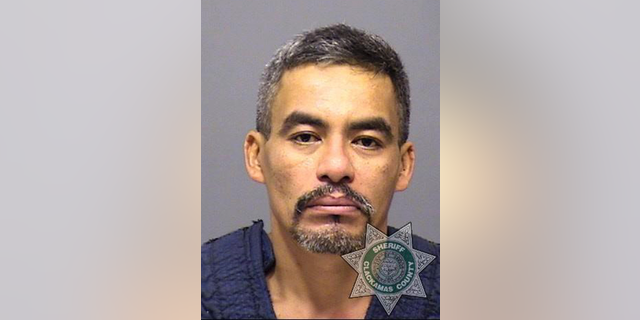 NEWYou can now listen to Fox News articles!
PORTLAND, Ore. – Federal officers have accused authorities in Oregon of preventing them from taking a Mexican national into custody before he was released in a domestic violence case and went on to be charged with murder.
Martin Gallo-Gallardo, who was in the U.S. illegally, posted bond in March and was released from jail in Portland when his wife and a daughter stopped cooperating with prosecutors and a grand jury declined to indict him, The Oregonian/OregonLive reported Friday.
Authorities in nearby Clackamas County arrested and charged him this week with killing his wife and dumping her body in a ditch.
His court-appointed attorney, Thomas Hanrahan, did not immediately return a call seeking comment Friday.
Immigration and Customs Enforcement says it placed a civil detainer on Gallo-Gallardo, 45, while he was still in custody in Portland and wanted to take him into federal custody for deportation, but the request wasn't recognized by the sheriff's office.
The case spotlights Oregon's first-in-the nation immigrant sanctuary law just as voters will decide Tuesday whether to repeal it. Oregon adopted the law in 1987 to prevent law enforcement from detaining people who are in the U.S. illegally but have not broken other laws.
"It's unfortunate that law enforcement agencies like the Multnomah County jail refuse to work with ICE to promote public safety by holding criminals accountable and providing justice and closure for their victims," said Tanya J. Roman, a spokeswoman for the ICE regional office that covers Oregon, Washington, Idaho and Alaska.
"Sanctuary policies not only provide a refuge for illegal aliens, but they also shield criminal aliens who prey on people in their own and other communities."
Multnomah County officials insisted Friday that they didn't get the request.
They also pointed out that jails in Oregon can't recognize civil detainers because of a 2014 federal court decision that found Clackamas County violated a woman's rights by holding her beyond her release date while federal authorities investigated her immigration status.
The county blasted ICE for putting the blame on them for the death of 38-year-old Coral Rodriguez Lorenzo when Gallo-Gallardo was free for six months.
"They had his name, address, and telephone number," said Sgt. Brandon White, a spokesman for the Multnomah County Sheriff's Office.
"It is disingenuous to make this claim when they failed to follow the process for even entering the civil detainer information into any law enforcement database."
Rodriguez Lorenzo was reported missing Tuesday, and authorities determined her body had been found a day earlier in rural suburbs of Portland. Investigators learned she was last seen with her husband arguing at a party, according to a probable cause affidavit.
Detectives went to question Gallo-Gallardo at his job and he confessed to the killing, the affidavit said.
An autopsy found Rodriguez Lorenzo died from blunt-force head trauma and multiple stab wounds.
ICE has now placed a hold on the suspect with the Clackamas County jail where he's being held on the murder charge.