Illegal immigrant who's been deported previously accused of nail gun rampage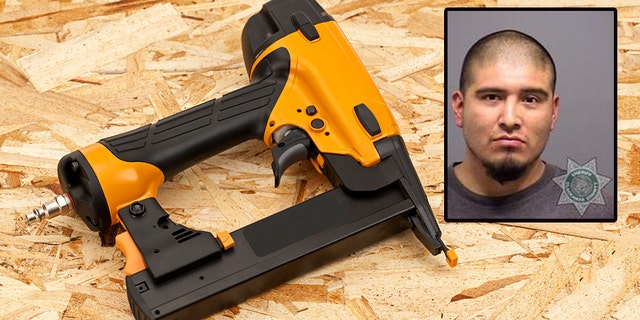 An illegal immigrant who was previously deported was arrested in Oregon on Saturday after he went on a rampage and almost killed his co-worker with a nail gun, officials said.
Jesus Ascencio-Molina, 24, a native of Mexico, was arrested on Saturday, April 14, after he assaulted Andres C. Marcelo, 24, of Wood Village, Ore., a fellow construction worker, the Clackamas County Sheriff's Office said. Deputies were called to the scene of a home in Happy Valley after responding to reports of an assault.
Marcelo was injured after Ascencio-Molina allegedly shot at him with a nail gun. Ascencio-Molina fled on foot and was arrested the next day. Marcelo was injured but listed in stable condition, the Clackamas County Sheriff's Office said.
Carissa Cutrell, an Immigration and Customs Enforcement spokeswoman, told the Daily Caller the sheriff's office would most likely not notify ICE if and when Ascencio-Molina is released from jail.
"Even though we lodged a detainer, due to Clackamas County's policy of non-cooperation, it is unlikely that ICE will be notified in the event Ascencio-Molina is released from custody before his criminal case is resolved," Cuttrell said.
OREGON OFFICIALS KILL 2 WOLVES IN EFFORT TO SAVE CATTLE
Ascencio-Molina was deported in 2012 after he was charged in Multnomah County, Ore., the Daily Caller reported.
"Ascencio-Molina was previously detained by ICE on immigration violations in 2012 after ICE officer encountered him at the Multnomah County Detention Center after his arrest on local criminal charges," Cuttrell said. "An immigration judge subsequently granted Ascencio-Molina voluntary departure to Mexico, and ICE returned him to his home country in 2013."
It was not immediately known when Asencio-Molina returned to the U.S. ICE issued a formal detention request Monday to the Clackamas County Jail.
KNIFE-WIELDING MONK SEAL PUP SPOTTED ON HAWAII BEACH
Ascencio-Molina was charged with assault and attempted murder and is currently at the Clackamas County Jail. His bail was set at $250,000.