Illegal immigrant urinating in public slashes man who objected, cops say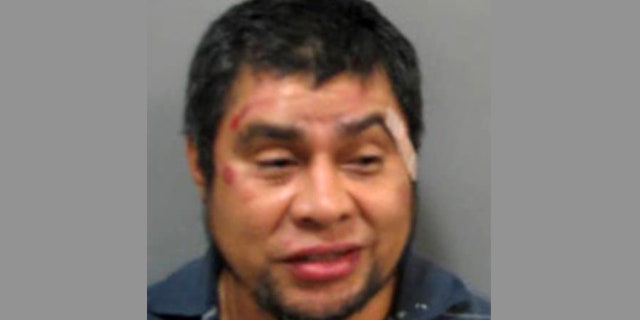 An illegal immigrant caught urinating in public in Maryland used a box-cutter to viciously attack a man who suggested he use a bathroom, according to a report Tuesday.
The victim was treated for slash wounds to his neck, face and stomach after the attack, which occurred two months ago at a bus terminal in Montgomery County outside Washington, WJLA-TV reported.
The accused attacker, Salvador Gomez-Lopez, 46, of Montgomery County, was allegedly drunk and belligerent at the time, the station reported.
Court records show Gomez-Lopez was arrested on two counts of assault, public intoxication and possession of a dangerous weapon with intent to injure. He was indicted a few weeks later. A judge called his case last week but he was not present for the conference. He has an April trial date and is being held on $5,000 bond.
A spokeswoman with Immigration Customs and Enforcement told Fox News on Tuesday that Gomez-Lopez was in the U.S. illegally from El Salvador.
ICE "lodged a detainer" following his arrest in Maryland and he was also a fugitive, the spokeswoman said.
Montgomery County police told Fox News that questions about the arrest were being handled by the state prosecutor's office which did not immediately return calls.
WJLA reported that when cops got to the bus terminal they were met by the bloody victim and another person who witnessed the attack.
The pair explained the trouble began when Gomez-Lopez started to relieve himself in plain view of other bus riders, the station reported.
As he was doing so, the victim suggested that Gomez-Lopez should pull up his pants and use a bathroom.
That's when Gomez-Lopez reportedly pulled out a razor-sharp box-cutter from his backpack, the station reported.
A fierce struggle ensued and Gomez-Lopez and the victim allegedly wound up on the pavement.
The victim ultimately pried away the weapon but only after suffering serious lacerations, including three deep cuts to his neck, according to WJLA.
Cops arrested Gomez-Lopez at the scene.
The station reported that, according to police, Gomez-Lopez was "uncooperative" and gave arresting officers a phony name when he was questioned.
Court records show he is the father of two children and was working part-time for a relative doing odd jobs, the station reported.