Illegal immigrant facing deportation offered sanctuary by Colorado church
An illegal immigrant who came to the United States at 17, then was ticketed for deportation after being convicted of having a stolen or falsified ID, is hiding from the feds in a Colorado church -- the second house of worship to offer her 'sanctuary' from the law.
Ingrid Latorre addressed the media and the Unitarian Universalist Church of Boulder congregation at a news conference Saturday.
"Thank you so much for being here today for me," Latorre said through an interpreter, reports the Daily Camera. "Thank you for opening the door for me and my family."
Latorre, 33, had been taking sanctuary at a church in Fort Collins, but she told the assembled congregation and press that it was hard because her family lives in west Denver.
TRUMP ADMINISTRATION CAN RETAIN DACA DOCUMENTS, SUPREME COURT RULES
"Now, I can see them every day," she said at the press conference, adding that the previous arrangement was particularly difficult for her oldest son, who goes to school in west Denver.
The group that first offered Latorre sanctuary, Mountain View Friends Meeting, said that she did not know the documents were stolen and they believe she was misled into a guilty plea by her previous legal representation.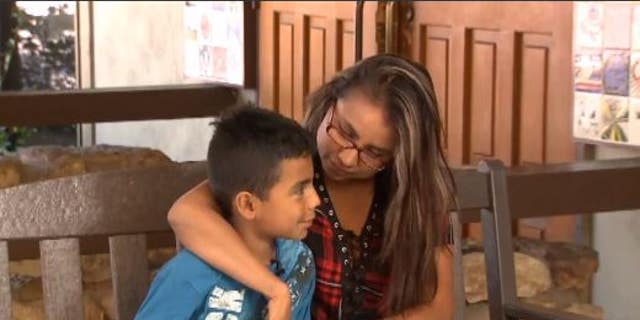 "We believe she received ineffective counsel at that time, which has affected her negatively and unfairly," David Poundstone, of Mountain View, told the Daily Camera.
Although Latorre's attempt to get the conviction overturned failed, as did her request to have Colorado's governor grant her a pardon, she has not given up and wants to stay in America.
"Now, my focus is really going to be on my case," she said. "It's at a little bit of a standstill."
FEDS RELEASE ONE OF TWO ILLEGAL IMMIGRANTS WHO SOUGHT ABORTION
The church voted to open its doors to immigrants seeking sanctuary in October. Most congregation members supported the decision -- but a preschool that had been leasing space from the church shut down last month, saying parents withdrew more than half of the students due to security concerns.
"It is a key part of our religious exercise," Rev. Kelly Dignan told the Daily Camera. "When sanctuary is offered, there is no intent to hide a person's whereabouts. We are open and honest with the authorities regarding our activities and intentions and the fact that we feel we are performing our religious duty."
Congregation member Steve Todd told the Daily Camera that he supports the church's efforts.
"Our immigration system is a hot mess. We need to fix that. And if this can help [Latorre] personally, then that's a good thing," Todd said. "If this can bring about some community awareness and can help inform public opinion about comprehensive immigration reform, then that is also a good thing."