Illegal immigrant accused in triple homicide in Florida home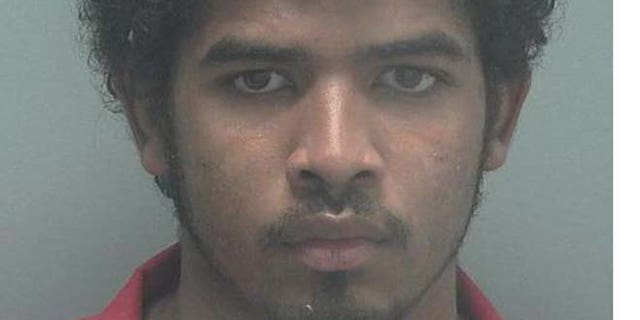 NEWYou can now listen to Fox News articles!
A 19-year-old illegal immigrant was being held without bail Saturday after the discovery of three bodies at a crime scene in a Florida home that veteran cops called "almost unimaginable."
Brian Omar Hyde appeared before a judge Friday on charges he killed his pregnant cousin Starlett Pitts, 17, and her 19-year-old boyfriend in a Lehigh Acres home Tuesday, and then killed his aunt and Pitts' mother, Dorla Pitts, 37, when she walked in on the scene while on the phone with her husband. Lee County deputies said he heard her scream, "Brian! What happened here? What happened?" before the phone went silent.
"All homicide scenes are normally violent but even for us this scene was what we considered almost unimaginable," Lt. Matt Sands said Thursday, according to WBBH-TV.
Hyde was in the country illegally from Belize in Central America and awaiting a court hearing as an illegal immigrant, having crossed the Texas border earlier this year, the Lee County Sheriff's Office said.
He fled to the U.S. to live with his aunt to avoid a trial in a Belize courtroom on charges of assaulting a police officer last November, the station said. He was then tried in absentia, found guilty, and given a 6-month jail sentence that remains to be served.
Hyde was also wanted in Belize on charges of robbing a cell phone store, the station said, while also reporting, according to reports, that the teen and two other men were suspects in a double homicide in 2013. Eventually, he was charged with a lesser crime of handling stolen goods.
The U.S. Immigration and Customs Enforcement released a statement Friday that said, "ICE has filed a request with the Lee County Sheriff's Office for notification if they intend to release the individual from custody."
Police said the victims were killed by repeated "sharp force trauma" to the head and neck. Sands said each victim had wounds indicating they tried to defend themselves as they were being attacked.
Dorrien Pitts called a friend to check on his wife when he couldn't get her back on the phone. The friend saw blood stains on the floor and a foot near a couch, ran outside and called 911, the Fort Myers News-Press reported.
As cops collected evidence at the crime scene, Fort Myers cops stopped Hyde in an SUV for a traffic violation and arrested him for driving without a license.
When he was arrested, he had human blood on his bare feet, his shoes and pants, the paper said, citing the arrest report.
A bloody palm print recovered at the crime scene matched the left palm print taken from Hyde after his arrest in Fort Myers, the Lee Sheriff's Office said.
According to the arrest report police found a backpack full of clean clothes in the SUV along with several pairs of shoes making it appear to investigators "as if Hyde was about to flee the area."
Investigators said they also discovered in the vehicle Hyde's immigration papers and Dorla Pitts' employee ID card from Naples Community Hospital where she worked as a nurse.
Hyde faces three count of second degree murder and one count of killing an unborn child by injury to the mother.
Pitts was helping her nephew obtain a high school equivalency diploma, her heart-broken sister Sasha Hyde told the News-Press from Belize.
"He was looking for something better in life," she said.