Idaho apartment stabbing suspect attacked child's birthday party seeking 'vengeance' after being asked to leave, cops say
The suspect accused of stabbing nine people, including six children, at an Idaho apartment complex attacked a child's birthday party to "take vengeance" after he was asked to leave, police said Sunday.
A visibly emotional Boise Police Chief William Bones described how first responders found the injured in the street and in hallways after the Saturday evening attack. He said the birthday girl, a three-year-old, was among the victims along with five other children between four and 12 years old.
He said that some of the victims had suffered life-threatening injuries and added that "the level of some of the injuries will be life-altering in a very negative way."
Timmy Earl Kinner, 30, of Los Angeles, was arrested and has been charged with nine counts of battery-aggravated assault and six counts of injury to a child. Bones said Kinner had a lengthy criminal record that included weapons charges and arrests for "violence against others" and had served prison time in Kentucky.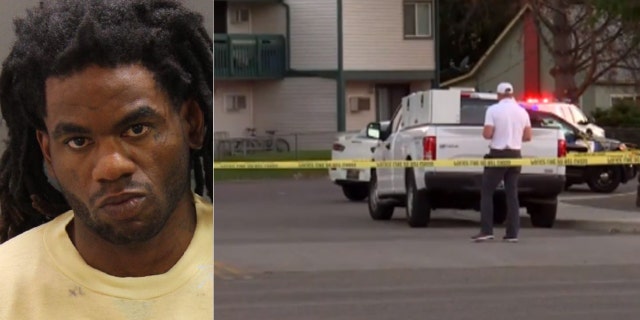 Bones said Kinner had been staying with a female resident of the apartment complex who had offered him a place to stay as "a helping hand." However, the woman realized the arrangement was not working and asked Kinner to leave Friday. The chief said Kinner had left "peacefully" when asked. The woman with whom he'd been staying was not at the complex when the attack unfolded, while the birthday party was taking place just a few doors away.
Investigators said the victims included recently resettled refugee families from Syria, Iraq and Ethiopia. However, Bones said there was no evidence that the attack constituted a hate crime.
On Sunday, colorful bouquets rested just outside crime-scene tape. The apartment complex is just off of one of Boise's busier streets, separated from the traffic by one of the many irrigation canals that run through the city. Bones said police had recovered the "large, folding-blade" knife Kinner was believed to have used in the attack from the canal.
Bones had said that the attack resulted in the most victims in a single incident in Boise Police Department history.
"It's just something we just don't see in Boise," he told reporters Sunday. "It tears your heart apart."
The Associated Press contributed to this report.