ICE says it seized $43M worth of counterfeit items in Laredo, Texas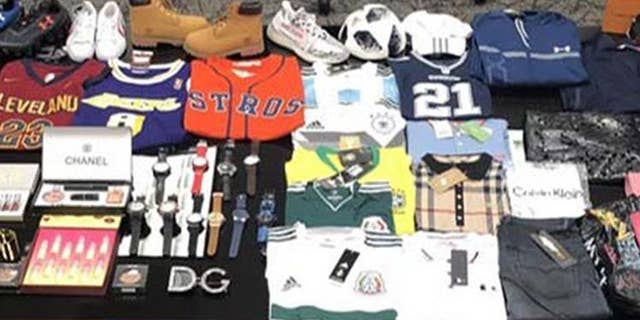 More than 181,000 counterfeit items worth some $43 million were seized last month by Immigration and Customs Enforcement (ICE) in Laredo, Texas, the agency said in a Friday statement.
The items, which ICE finished tallying on Tuesday, constituted the biggest counterfeit seizure for ICE's Homeland Security Investigation (HSI) in the area.
Agents reportedly watched for days in mid-June as boxes with items suspected to be fake were moved. When they seized the items, the group reportedly found that shipping labels on the boxes were for fake addresses.
Counterfeited brands included such prominent names as Adidas and Apple, Under Armour and Yves St. Laurent. In all, 795 boxes held 181,615 items.
The criminal group -- it was based in Laredo -- that coordinated the merchandise deliveries was the same one identified in a seizure in May, HSI stated. That seizure totaled $16.1 million in "trademark-infringed merchandise which was destined for illegal export to Mexico," HSI claimed.
With the May and June seizures added together, $59 million in fake goods was seized, including 260,000 pieces of jewelry, cosmetics, electronics and clothing garments.
"Criminal elements use every and any opportunity to sell substandard and counterfeit goods to the American public," Acting Deputy Special Agent in Charge Jesus Adrian Flores, HSI Laredo, said in the statement. "HSI special agents are committed to collaborating with industry representatives and law enforcement agencies to crackdown on counterfeiting that significantly hurts local economies and funnels money into criminal organizations involved in additional illicit activities."
The announcement of the seizures comes as the Trump administration forcefully defends ICE in the face of Democratic calls to "abolish" the agency.
"Under President Donald Trump, we will never abolish ICE," Vice President Mike Pence said at ICE headquarters on Friday. "As the president said, we will never fail to applaud and expand and empower this agency with the resources you deserve."
Sens. Elizabeth Warren, D-Mass., Bernie Sanders, I-Vt., and Kirsten Gillibrand, D-N.Y., among other liberal lawmakers, have backed the call to abolish the agency, a reaction to the administration's "zero-tolerance" policy on illegal immigrants intercepted at the border. The policy has led to the separation of immigrant families at the southern border.
As for the June seizure, no criminal charges have yet to be filed as the investigation continues.
Fox News' Adam Shaw contributed to this report.