ICE agents arrest 18 human smugglers, 117 illegal immigrants in Texas, New Mexico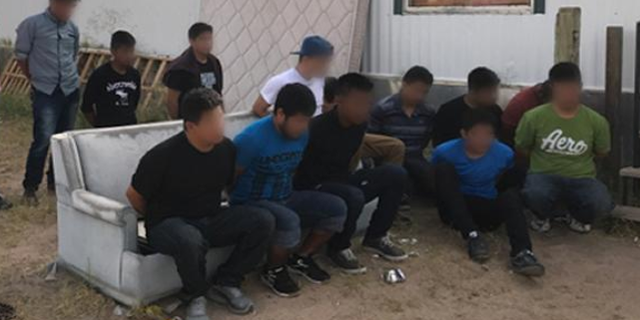 U.S. Immigration and Customs Enforcement (ICE) agents arrested 18 human smugglers and 117 illegal immigrants from three different stash houses located in southern New Mexico and El Paso, Texas, last month, the agency announced in an online statement Friday.
ICE worked alongside agents with the U.S. Border Patrol to make the arrests, seizing cash, cars and drugs during the massive sting operation.
"The monthlong enforcement action resulted in the arrest of illegal aliens in three area stash houses from the following countries: Mexico (93), Guatemala (12), Honduras (6), Brazil (3), El Salvador (2) and Peru (1)," ICE reported. "The seizures included nine vehicles, three tractor-trailers and $20,000 in U.S and Mexican currency."
U.S. citizens Elias Serrano, 42, and Jesus Briseno, 25, were among those arrested for smuggling, according to ICE. Both men have extensive criminal records.
DEMS WHO DRAFTED BILL TO ABOLISH ICE NOW SAY THEY'LL VOTE AGAINST IT
Officials said Serrano had at least four prior convictions including aggravated stalking, kidnapping, possesion of a deadly weapon and posession of marijuana with intent to distribute. Briseno's record reportedly includes convictions for escape from custody, possession of marijuana, assault/causing injury to family member and a DUI.
At least three illegal immigrants arrested by ICE also had criminal backgrounds, including one man with ties to a Mexican drug cartel.
ICE considered the June operation a victory — with officials saying it proves agents are committed to securing U.S. borders.
COST OF ANTI-ICE PROTESTS PROMPTS CALIFORNIA COUNTY TO FORGO $3M FEDERAL CONTRACT
"We remain steadfast in our commitment to vigorously pursue members of transnational criminal networks that exploit and endanger people they smuggle into our country," Jack P. Staton, special agent in charge of ICE Homeland Security Investigations (HSI) in El Paso, said in a statement. "These smugglers are driven by human greed and heartlessness. HSI will continue to work with our law enforcement partners, such as Border Patrol, to maintain the integrity of our border and nation's immigration laws."