Hurricane Joaquin downgraded to Category 3 storm as east coast prepares for more rain and flooding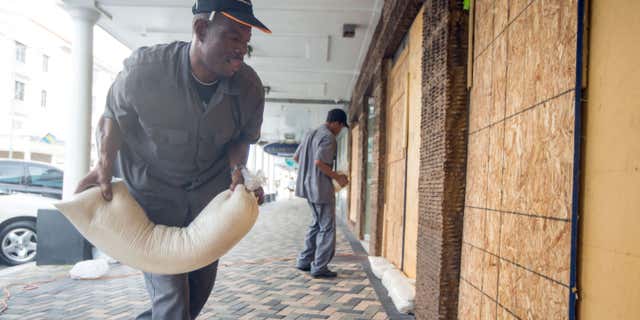 Hurricane Joaquin was downgraded from a Category 4 to a Category 3 storm Friday evening, even as many east coast states kept their states of emergency declarations in effect as the powerful storm continued to churn in the Bahamas.
Joaquin, drifting north at less than ten miles per hour according to the National Weather Service's 5 p.m. ET advisory, continued to batter much of the Bahamas with 125 mph winds and heavy rains, but the effects of the storm were also being felt throughout the eastern U.S.
Governors in six East Coast states declared states of emergency earlier Friday as the coast continues to prepare for potential torrential rain and severe flooding from the powerful storm.
Joaquin is unlikely to make direct landfall, but forecasters are warning of flash floods from historic Charleston, South Carolina, to Washington, D C., and officials in Maryland, New Jersey, North Carolina, South Carolina, Virginia and Delaware are bracing for the worst.
"We're becoming increasingly confident and concerned about the heavy rainfall," David Novak, director of the National Oceanic and Atmospheric Administration's Weather Prediction Center in College Park, Maryland, told the Associated Press.
Two storm-related deaths have already occurred in the Carolinas, where heavy rain has fallen for days.
The fatal unpredictability of the rain was shown when a Thursday morning downpour dumped 4 inches on Spartanburg, South Carolina in a short time, causing flash floods that submerged several cars. Authorities around the region have warned of saturated soil giving way to falling trees.
Moisture from the hurricane will combine with a cold front that has been causing rain and some flooding along the eastern seaboard, AccuWeather reported.
The front continued to whip up surf and dump rain across much of the Carolinas and Virginia coasts as it moved slowly northeast Friday evening.
At least three inches of rain fell in the Myrtle Beach, S.C., area, and meteorologists predicted that number to increase, according to the Myrtle Beach Sun-News.
"The ground is already saturated in many locations. The potential for heavy rainfall, regardless if Joaquin stays off the coast is high," National Weather Service meteorologist Steve Pfaff said in a Friday briefing.
Bulldozers were brought in to a number of beachfront communities in New Jersey to build up sand dunes in anticipation of the high surf, the Asbury Park Press reported.
In Delaware, rising water caused the closure of, or advisories along, portions of some roads in the state's low-lying marshes and coastal areas, according to DelDOT.
The National Hurricane Center in Miami's long-term forecast showed the storm could near the U.S. East Coast along North Carolina and Virginia on Sunday or Monday, though it's expected to make a significant turn to the north on Friday and Saturday, completing its pass over the Bahamas late Friday evening.
If the forecast holds, that would put the storm on a path that would keep it out at sea as it moves north along the Atlantic coast of North America.
In the central Bahamas torrential rains continued to fall, flooding homes and ripping off roofs.
Surging waters reached the windows of some houses on Long Island in the Bahamas while on Eleuthera island people hauled sandbags and boarded up businesses as the storm neared Friday.
"It's going to be a scary storm," said 42-year-old construction worker Jason Petty as he pointed at towering clouds gathering in the distance in Eleuthera. "It looks nice now, but later on it's going to be terrible, just terrible."
There were no immediate reports of casualties, according to Capt. Stephen Russell, the director of the Bahamas National Emergency Management Agency.
Prime Minister Perry Christie said he was amending laws to mandate evacuations because some people were refusing to move into shelters.
"We do not know the impact of 130 miles an hour on those areas," he said, referring to the hurricane's winds. "We know it's a horrific kind of experience."
The storm is expected to move near or over portions of the central Bahamas overnight.
On Eleuthera, Christian minister Dawn Taylor said she believed Eleuthera would withstand the hurricane because Bahamians learned how to cope with storms after devastating Hurricane Floyd in 1999, which had winds of 155 mph and generated up to 50-foot waves.
Taylor said people on Eleuthera also are deeply religious and that their faith would carry them through.
"We depend on our God, and as long as he is with us, we will be fine and we will ride out the storm," she said.
The storm approached Eleuthera after it generated severe flooding on Acklins, where power went off overnight and phones were down. Russell said some of the roughly 565 people who live there were trapped in their homes.
Bahamas resident Shandira Forbes said she had spoken to her mother on Acklins by phone Thursday.
"She was calling for help because the sea was coming into her house," Forbes said. "People's roofs were lifting up. No one knew (about the storm), so there was no preparedness, there was no meeting, there was nothing."
Islands such as San Salvador, Cat Island and Rum Cay were expected to be hit hardest before the storm begins an expected shift toward the north, forecasters said.
Joaquin had maximum sustained winds of 130 mph, the U.S. National Hurricane Center in Miami said, calling it an "extremely dangerous" hurricane. As of 11 p.m. EDT, the storm was located about 20 miles east-southeast of Long Island after passing over Samana Cays, Bahamas. It was moving west at 3 mph.
While Samana Cays is usually uninhabited, eight to 10 people were working there, staying in temporary housing, when the storm hit, said Parliament member Alfred Gray.
"If the buildings look like they won't withstand, there are some caves on the side of the rock that they can go into because it's not prone to flooding," he said.
Meanwhile, authorities in the nearby Turks & Caicos Islands closed all airports, schools and government offices.
The Cuban government issued a tropical storm warning for the provinces of Camaguey, Los Tunas, Holguin, and Guantanamo.
The Associated Press contributed to this report.