Hurricane Florence lashes Carolinas, residents share first, harrowing videos of storm's fury
The first images from inside Hurricane Florence's assault on North Carolina emerged Friday morning, as the residents closest to the chaos posted stunning videos of massive rivers forming where highways had been and flood waters rising up the sides of homes.
As the driving rain and pounding winds reached land Friday, a few of the locals who decided to ride out the storm reached for their cameras to capture Florence's fury from a first-hand perspective.
Although several communities along the coast had mandatory evacuation orders, many people still chose to stay behind, putting them in a prime position to shoot and post videos of the terrifying onslaught.
Twitter user Natasha Patterson shared video of flooding in New Bern, North Carolina on social media.
"Yeah, it's deep out there," a man says in the video. "I'm not sure what's that floating down there, but it's big. That could do some destruction."
The New Bern Police Department and other residents also shared photos online of flooding.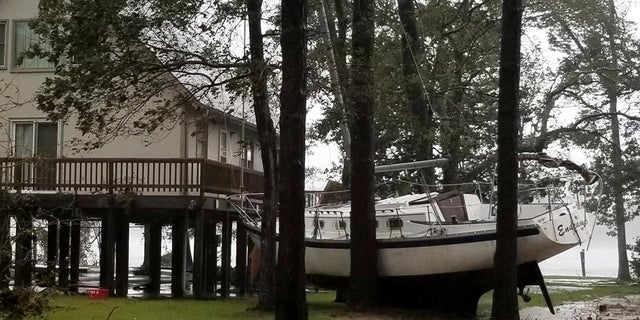 The WCTI-TV newsroom in New Bern was forced to evacuate as well as the studio flooded. Meteorologist Ashley Pratt shared photos of the station to Twitter.
In Jacksonville, North Carolina, pieces of a truck flew through the glass windows of the Hilton Garden Inn, Fox News' Emilie Ikeda reported. Onslow County employees and National Guardsmen are staying at the hotel.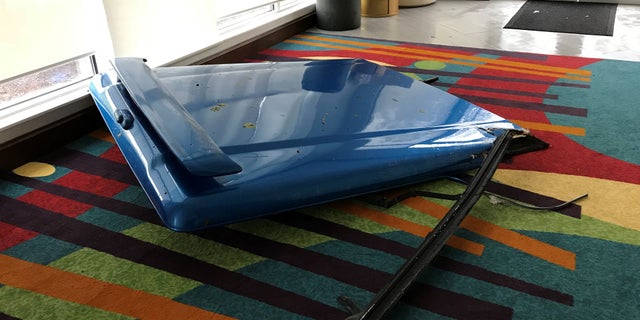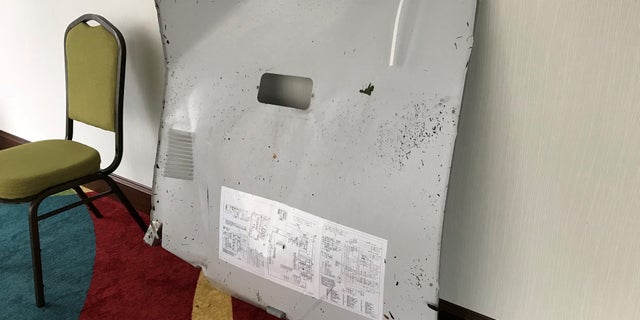 Artist Sarah Loeffler Misch shared several videos of the rising waters in Avon, North Carolina – part of the Outer Banks.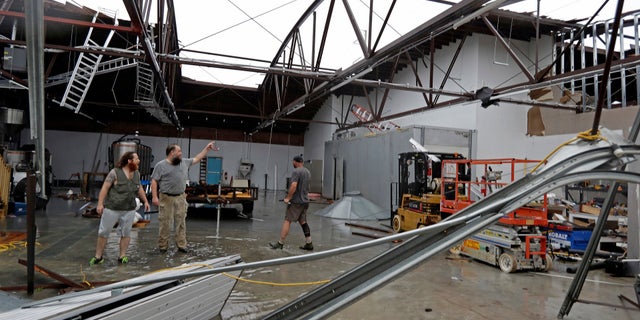 Also in Avon, photographer Jason Cole captured video of a powerful storm surge overtaking sand dunes.
One woman tweeted a video taken by her neighbor, Amy Johnson, showing flood waters in Belhaven, North Carolina, rising up to the windows of a house. The flooding was caused by overflow from the Pungo River, she wrote.
WeatherNation also shared a video of massive flooding in New Bern.
David Rankin shared a photo of the Cajun Navy helping save people from the floods in New Bern.
Storm chaser Jeff Piotrowski posted photos of downed trees in Wrightsville Beach and a toppled gas station awning in Wilmington.
Sandie Orsa is waiting out Hurricane Florence in a hotel in Wilmington. She told The Associated Press the power went out as the storm hit.
"Very eerie, the wind howling, the rain blowing sideways, debris flying," Orsa said.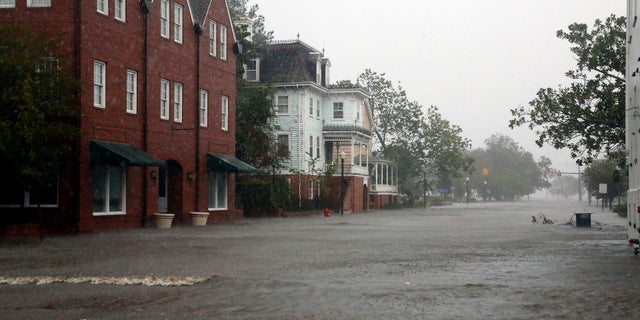 In Rodanthe, North Carolina, Rebecca Wells Hooper shared video and photos of rough waves and debris crashing into a pier.
Another Twitter user posted shared video footage of a ravaging Neuse River in North Carolina.
With maximum sustained winds of 90 mph, the National Hurricane Center said Florence was producing hurricane-force winds that extended outward up to 80 miles from the storm's center.
As the storm widens – and lingers – Florence has increased potential to produce tornadoes, flash flooding, mudslides and a catastrophic storm surge.
In New Bern, about 150 people waited to be rescued from flooding on the Neuse River, local officials said. The city said two Federal Emergency Management Agency teams were working on swift-water rescues, and more were on the way.
Fox News' Emilie Ikeda and The Associated Press contributed to this report.