Hurricane Florence charges towards East Coast as 'monster' storm, lawmaker says
As Hurricane Florence, a Category 4 storm, drove toward the East Coast on Tuesday, lawmakers from three states in the "monster" storm's path have ordered mass evacuations for more than a million people.
The governor of North Carolina, whose state – alongside South Carolina and Virginia – is forecast to see "life-threatening storm surge" and "damaging winds," warned residents of the potential extreme conditions.
"This storm is a monster. It's big and it's vicious. It is an extremely, dangerous, life-threatening, historic hurricane," North Carolina Gov. Roy Cooper said.
"The waves and the wind this storm may bring is nothing like you've ever seen. Even if you've ridden out storms before, this one is different," Cooper said. "Don't bet your life on riding out a monster."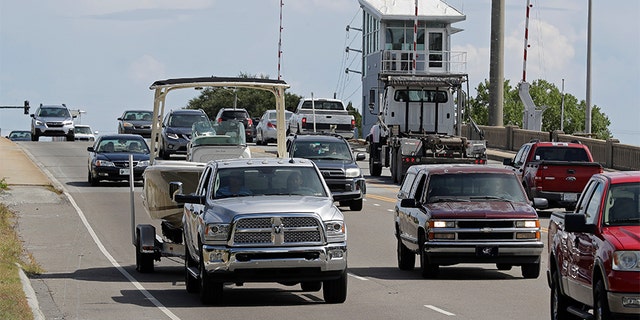 President Trump on Tuesday was given an update on Florence by the head of the Federal Emergency Management Agency (FEMA) and vowed that the government was prepared to respond to the impending hurricane, adding that the public's safety was his "absolute highest priority."
FEMA administrator Brock Long warned that the hurricane will be a "devastating event" and urged people to evacuate if they've been asked to leave their homes. He said electric power could be out for weeks.
Trump has declared states of emergency for the Carolinas, as well as Virginia, and canceled campaign events Thursday and Friday in anticipation of the storm.
Florence intensified to a Category 4 storm on Monday. The storm, currently situated approximately 350 miles south-southwest of Bermuda, is moving west-northwest at 17 mph with maximum sustained winds of 140 mph, the NHC said in their 8 p.m. ET update.
Florence is forecast to near the Carolinas as early as Thursday and could be "an extremely dangerous major hurricane," the NHC said.
"On the forecast track, the center of Florence will move over the southwestern Atlantic Ocean between Bermuda and the Bahamas through Wednesday, and approach the coast of North Carolina or South Carolina in the hurricane warning area on Thursday and Friday," the NHC update said. Strengthening is forecast tonight and
Wednesday. While some weakening is expected on Thursday, Florence is forecast to be an extremely dangerous major hurricane through landfall."
In addition to possible storm surge, Florence could dump more than a foot of rain over the course of its duration, which could cause "catastrophic flash flooding and significant river flooding," the NHC said.
A storm surge and hurricane warning was in effect for South Santee River, South Carolina to Duck, North Carolina, as well as the Albemarle and Pamlico Sounds in North Carolina, the NHC said.
Additionally, Edisto Beach to South Santee River in South Carolina and areas north of Duck, North Carolina through to the state's border with Virginia were under a storm surge and hurricane watch, the agency said.
More than 5.4 million people live in areas under hurricane warnings or watches on the U.S. East Coast, according to the National Weather Service
Officials in states in the storm's path have recommended having emergency contact numbers handy should those affected need assistance.
Fox News' Jennifer Earl, Lucia I. Suarez Sang and The Associated Press contributed to this report.