Hundreds gather to fly Confederate flag high above I-95 amid controversy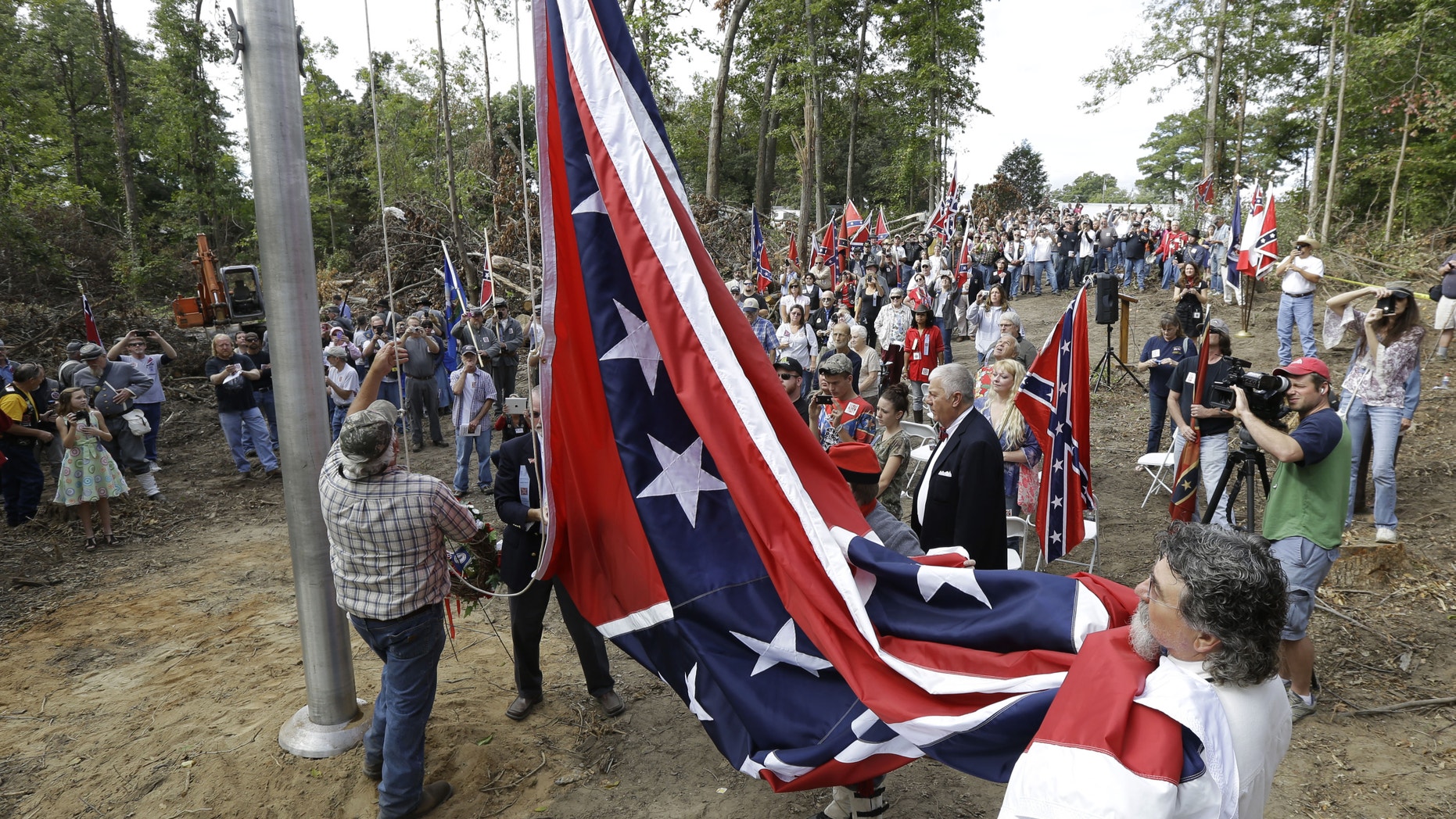 With a rebel yell, "Dixie," had its day Saturday.
As promised, the Virginia Flaggers heritage group hoisted yesterday a 15 foot-by-15 foot Confederate battle flag on a swath of freshly cleared forestland adjacent to well-traveled I-95 in Virginia.
An historian spoke, a rendition of "Dixie," was sung, a bagpiper played "Amazing Grace," – and, yes – there was, indeed, a rebel yell.
Hundreds gathered for the ceremony, held in Chester, about 10 miles south of Richmond.
The flaggers had announced earlier this year their intention to hoist the red-and-blue flag up a 50-foot pole located on a parcel of privately owned land donated specifically for the purpose.
[pulquote]
The group's members – and its advocates – have argued their intention is solely to honor those who fought for the South during the Civil War.
As John Thompson, a 50-year-old Richmond resident, said, "The reason why we're here is to honor the soldier. We don't see it as a slavery issue."
But the effort has sparked consternation and controversy from those who counter that the flag of the Army of Northern Virginia is too heavily freighted with connotations of slavery and bigotry.
"Their flag is out of context," said Richmond attorney Brian Cannon, who notably organized a social media protest over the I-95 flag. "It's a symbol of divisiveness and for many it's hateful."
Opponents gathered nearly 25,000 signatures for on an online protest petition, and encouraged Richmond residents to fly American flags as a sign of protest. An American flag about 60 feet wide was unfurled at a construction site in downtown Richmond around noon Saturday.
But the flaggers were undeterred, unfurling the banner in a spot prominent to passing motorists on the interstate.
"As sons and daughters of the South, we have inherited a birthright. Ours is a proud heritage," said Susan Hathaway, a member of the Virginia Flaggers. "We are descendants of Confederates, we are friends of Confederates. ... The flag that is being raised today will be a living, breathing memorial to our Confederate dead."
Thomas Morris, a Civil War re-enactor from Crewe, said he was befuddled by objections to the memorial.
"We wouldn't make comments like that if they were trying to memorialize their heritage," noted Morris, 59.
He then mentioned a 16-year-old ancestor who once served under Gen. Thomas "Stonewall" Jackson and was killed in Culpeper in what Morris called "the war of Northern aggression."
The Associated Press contributed to this report.