Human smuggling trial exposes Cuban ballplayers' tough road to the MLB
Chicago White Sox first baseman Jose Abreu returned to the witness stand Thursday to testify in the case against two Florida men accused of operating a ring that smuggled Cuban ballplayers to the United States.
Sports agent Bartolo Hernandez and baseball trainer Julio Estrada allegedly orchestrated Abreu and many other Cuban players' trip to third countries, where they signed lucrative Major League Baseball contracts.
According to MLB rules, Cuban players can become free agents only if they first establish residency in a third country before entering the U.S.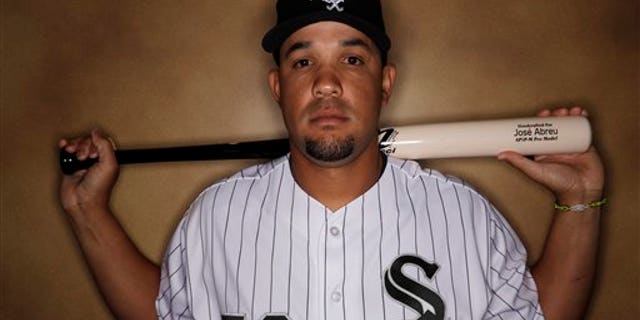 CHICAGO WHITE SOX'S JOSE ABREU TO JURY: I ATE FAKE PASSPORT ON WAY TO US
Several other Cuban players have testified, including Miami Marlins' Adeiny Hechavarria and Leonys Martin, of the Seattle Mariners.
Federal prosecutors say that in some cases Hernandez and Estrada's organization resorted to kidnapping and extortion, holding the players captive until they signed contracts with them and ultimately with the MLB.
Hernandez's lawyer in Miami, Jeff Marcus, called the government's description "pure fiction."
Abreu is testifying under a grant of limited immunity for his illegal conduct, meaning he won't be prosecuted if he tells the truth on the witness stand.
He told a Miami federal jury Wednesday that while on the plane to the U.S. he ate a chunk of a fake Haitian passport — the page containing a false name and his photo.
CUBAN BASEBALL PLAYERS PAID SMUGGLERS $15M FOR VOYAGES TO MEXICO, HAITI
"Little by little I swallowed that first page of the passport. I could not arrive in the United States with a false passport," he said.
He explained he traveled illegally because he was worried he would miss an October 2013 deadline and lose the $68 million contract he later signed with Chicago.
Abreu told jurors that he got the fake passport in Haiti, where he had been taken along with his family from Cuba by speedboat in August 2013.
He said his main contact and fixer there was Amin Latouff, a man who was indicted along with Hernandez and Estrada but has not been arrested.
ON THREE-DAY MISSION, MLB STARS RETURN TO CUBA TO TEACH KIDS BASEBALL SKILLS
Abreu, who hit 25 home runs and drove in 100 runs last season, was given time off from White Sox spring training in Arizona to testify in the Miami case.
As part of the thaw in U.S.-Cuba relations, MLB is in talks with both nations' governments on a potential deal that could make it easier for Cuban ballplayers to play in the U.S. without having to sneak away at international tournaments or risk high-seas defections with smugglers.
The AP contributed to this report.