Human Remains Identified as Missing California Nursing Student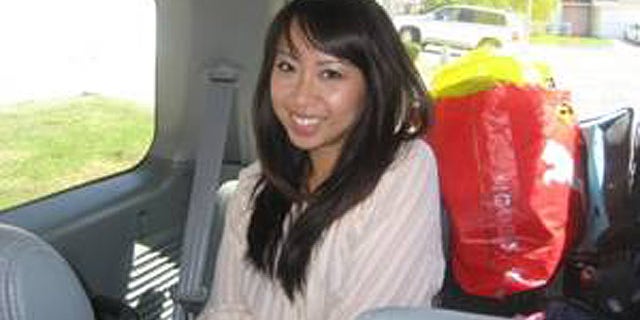 NEWYou can now listen to Fox News articles!
Authorities say human remains found in a San Francisco Bay area canyon are those of Michelle Le, the missing nursing student who disappeared May 27 while taking a school break.
Hayward police late Monday said tests by the Alameda County coroner on the badly decomposed remains confirmed they were Le. Police declined to release any further information.
On Saturday, searchers discovered the remains off a dirt trail in a rugged Alameda County canyon. Police said cell phone signals from Le and a former school friend they suspect in her death had been received from the area.
The former friend, Giselle Esteban, knew Le in high school in San Diego. Esteban was arrested earlier this month and charged with murder.
Police said Le's family has been told of the discovery and released a statement thanking those who helped or were involved in the search. The family has directed any questions about the case to the Almaeda County District Attorney's office.
Authorities said the remains were so badly decomposed that investigators were not immediately able to determine if they were those of a male or female.
Police believe Esteban, 27, attacked Le in the parking garage of the hospital where she was doing a clinical rotation.
Le had told colleagues she was going to her car but never returned. Her locked Honda SUV was later found a half-mile away.
Cell phone records show that both women's phones "traveled on a similar path" from the hospital to other locations in Alameda County immediately after Le disappeared, a police inspector wrote in an affidavit.
Since Le's disappearance, relatives, law enforcement agencies and volunteers have focused their searches in the craggy terrain between the cities of Pleasanton and Sunol.
Police Lt. Roger Keener said cell phone forensics helped investigators target the Niles and Sunol Canyon areas, but difficulties in traversing the thick brush have forced search teams to return to the area more than a dozen times.
Le's family has received help from the KlaasKids Foundation and Marc Klaas, whose 12-year-old daughter, Polly, was abducted from a slumber party in 1993 and later found slain.
The foundation has worked with the Le family from the beginning and helped register volunteers and establish protocols for the search on Saturday, Keener said.
Esteban, 27, is due back in court Monday after a judge postponed a plea hearing so she could get an attorney. She was being held without bail.
Esteban told KGO-TV in June that she hated Le because Le was friends with the father of Esteban's 5-year-old daughter.
Esteban has denied having anything to do with Le's disappearance.
In the affidavit, Hayward police Inspector Fraser Ritchie wrote that video surveillance footage shows Esteban at the scene before and after Le's disappearance.
Police said they found traces of Le's blood inside her SUV and physical evidence that Esteban had also been inside the vehicle, as well as Le's DNA on one of Esteban's shoes.
Le was about halfway through a 12-month accelerated bachelor's degree program at Samuel Merritt University in Oakland, combining classroom work with clinical training, which is what Le was doing at the time of her disappearance.
University spokeswoman Elizabeth Valente has described the young woman as "a ray of sunshine" with a thirst for knowledge and a passion for nursing who was well-liked on campus.