Huge, deadly I-44 pile-up in Missouri seen in stunning drone footage
NEWYou can now listen to Fox News articles!
A Missouri fire department shared incredible drone video Monday showing the aftermath of a huge, deadly pileup on Interstate-44 that happened during a snowstorm Sunday.
The crash near Springfield involved several vehicles and tractor trailers and resulted in the death of a 63-year-old woman, according to local TV station, KY3 News and other local media.
Missouri state police said more than 100 vehicles were involved in a series of accidents on I-44 Sunday that left the woman dead and 11 other people injured.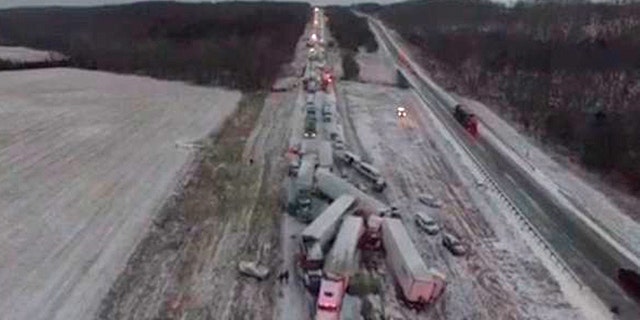 The snow and icy conditions made driving treacherous on Missouri highways Sunday.
30-CAR AND 12-CAR CRASHES ON MISSOURI HIGHWAY LEAVE 1 DEAD, OTHERS INJURED
The drone video was posted to the Facebook page of the Conway Volunteer Fire Department late Sunday.
"Here's an aerial view from the multiple vehicle accident at the MM 106 on I-44," the post said.
Missouri transportation officials re-opened that stretch of the highway around 7 a.m. Monday.
"Most roads are clearing up, but there is still coverage in some areas," the Missouri Department of Transportation tweeted Monday, while urging drivers to use extra caution.