How states fared on unemployment benefits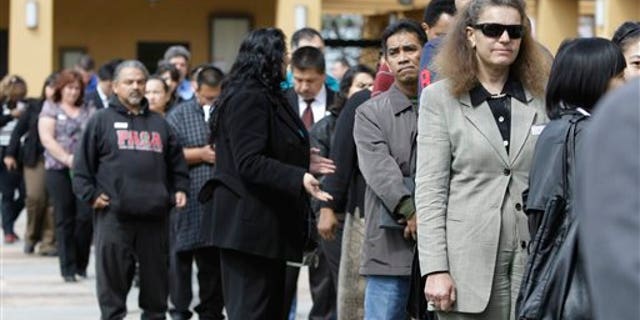 NEWYou can now listen to Fox News articles!
The number of Americans seeking unemployment benefits was mostly unchanged last week, evidence that the economy is too weak to generate many jobs. Applications dipped 1,000 to a seasonally adjusted 428,000. Applications have been above 400,000 for 12 straight weeks. They need to fall below 375,000 to signal robust job growth.
Here are the states with the biggest decreases and increases. The data is for the week ended June 18:
States with the biggest drops in applications:
Ohio: Down 2,769, no reason given
Illinois: Down 2,557, due to fewer layoffs in the manufacturing, transportation, warehousing and service industries
New York: Down 2,215, due to fewer layoffs in construction and services
Georgia: Down 2,119, due to fewer layoffs in manufacturing, construction, trade and services
Texas: Down 1,532, due to fewer layoffs in manufacturing, retail and services
Massachusetts: Down 1,502, due to fewer layoffs in construction, trade, transportation and warehousing
States with the biggest increases:
California: Up 4,393, due to layoffs in services
New Jersey: Up 3,274, due to layoffs in transportation, warehousing and services industries due to school closings
Florida: Up 3,146, due to layoffs in agriculture, construction, trade, retail, manufacturing and services
Michigan: Up 1,794, due to layoffs in services
Pennsylvania: Up 1,653, due to layoffs in transportation and services