'How do I spend the rest of my life without my daughter?'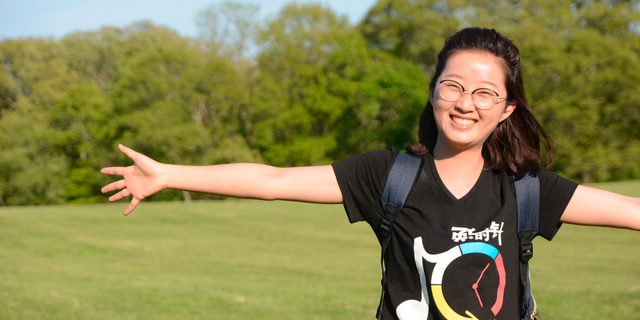 URBANA, Ill. – For more than four months, Ronggao Zhang has walked to his missing daughter's apartment almost every day. At first, he stood outside, hoping she would show up one afternoon. But even after he was told she'd been kidnapped and was presumed dead, he's continued his routine.
"It brings peace and comfort to my heart," Zhang explained in Mandarin, through a translator.
His daughter, Yingying Zhang (ying ying zahng), a 26-year-old visiting scholar at the University of Illinois at Urbana-Champaign, disappeared June 9 on her way to sign an apartment lease. A former graduate student has been charged with kidnapping and killing her. Zhang's body has not been found.
A few days ago, Zhang's father made a final visit to the Orchard Downs apartments with his wife, 24-year-old son and daughter's boyfriend as they prepared to return to China. They arrived here after Zhang vanished, hopeful in the beginning that she'd be found alive. After authorities relayed the grim news, they decided to stay until her remains were found so they could take her home for a proper burial, in accordance with Chinese customs.
Now they plan to leave Sunday, reluctantly, without her. Zhang's mother is in fragile health — she broke down at the start of a recent court hearing — and there's no way of knowing when this cruel mystery will be solved. Each day they wait, in agony.
"We don't know where she is, and I don't know how to spend the rest of my life without my daughter," said Lifeng Ye, Zhang's mother, her face tear-stained and voice trembling as she spoke through a translator. "I can't really sleep well at night. ... I often dream of my daughter, and she's right there with me. I want to ask the mother of the suspect, please talk to her son and ask him what he did to my daughter. Where is she now? I want to know the answer."
Authorities have not said how Zhang died. Brendt Christensen, 28, was charged in July with abduction and then last month accused in a superseding indictment of kidnapping resulting in death "in an especially heinous, cruel or depraved manner, in that it involved torture or serious physical abuse to the victim." That carries the possibility of the death penalty. Christensen's lawyer declined comment.
Federal prosecutors claim that Zhang, who arrived on campus in April, had missed a bus and worried she was late to sign an apartment lease when Christensen lured her into his car. Surveillance video showed her getting into the front seat of a black Saturn Astra the FBI alleges was cleaned in a way to conceal evidence.
Audio surveillance captured Christensen talking about how he abducted Zhang and brought her back to his apartment, where she "fought and resisted" while he held her against her will, according to prosecutors. They contend he also talked about who makes an "ideal victim," but prosecutors would not identify whom Christensen was speaking with or the source of those conversations.
A federal complaint disclosed that Christensen used his phone in April to visit a fetish networking site online, viewing threads titled "perfect abduction fantasy" and "planning a kidnapping." Christensen, who earlier this year earned a master's degree in physics, appeared at a campus vigil for Zhang in June before he was arrested.
Zhang's disappearance has rippled far beyond this quiet central Illinois community, generating headlines and discussion in Chinese newspapers and social media sites about the American justice system, the capabilities of law enforcement, and whether scholars who study in the U.S. are safe.
Some 5,600 Chinese students attend the university here — more than any other college in the nation. The Urbana-Champaign area typically has no more than a few homicides a year.
Studying in America was a longtime dream for Zhang and "she loved her stay here," said her boyfriend, Xiaolin Hou, who was in touch with her every day via WeChat, a popular social network in China.
She chose Illinois for its highly regarded agriculture program. Zhang had been doing research on crop photosynthesis. She was to begin her doctoral work in September after having earned a graduate degree in environmental engineering from the prestigious Peking University Shenzhen Graduate School.
"She was very tough, strong, never afraid of hard work," her mother said, recalling how she was at the top of her class ever since she was a little girl. Zhang was a calming influence, too, when her parents expressed concern about her safety in America. "She always told me, 'Mom, don't worry about me. There are Chinese here, Americans here. But everyone is very nice here.'"
Zhang was a devoted daughter. At the same time every Saturday, she'd call her parents in Nanping, China. As a graduate research student, she used her meager savings to buy her family a cellphone, an air conditioner and a microwave oven. She planned to become a university professor and help support her father, a factory worker, and mother, a homemaker.
"She never hesitated, even for a moment, when others needed help," said her boyfriend, who put his doctoral studies on hold to join Zhang's family here. He said her selflessness was what attracted him to Zhang when they met in their first year in college. She also knew how to have fun, playing guitar and singing lead in a band called "Cute Horse."
Hou and family members have met with the FBI, police and prosecutors, but they're frustrated by the slow pace of justice, said Zhidong Wang, a Chicago lawyer who has been helping them. He said he's explained that even though authorities have a suspect, Christensen's constitutional rights protect him from being forced to reveal anything that would hurt his defense.
Christensen's lawyers recently sought a delay in the trial until next October, saying they needed to check into several purported sightings of Zhang and reports of suspicious people around her apartment before she disappeared.
Zhang's father said the loss of his daughter has warped his sense of time: "Every day is like a year."
Hou, Zhang's boyfriend of eight years, has struggled, too. Though they didn't have marriage plans, he said, "In my heart, she is my wife for all time."
When authorities provided scanned pages of Zhang's diary to the family, Hou said it hurt too much to read them thoroughly. She wrote regularly of long-term and short-term goals and meticulously detailed how she organized her day — 20 minutes for breakfast, 20 minutes for jogging.
On June 1, her last entry, Zhang was a bit more philosophical.
"Life," she wrote, "is too short to be ordinary."
Hou said it will be hard to leave and wait from thousands of miles away to bring Zhang home.
"We don't know how much longer this journey is going to be," he said. "We just feel hopeless."
___
Sharon Cohen, a Chicago-based national writer, can be reached at scohen@ap.org or http://twitter.com/@scohenAP