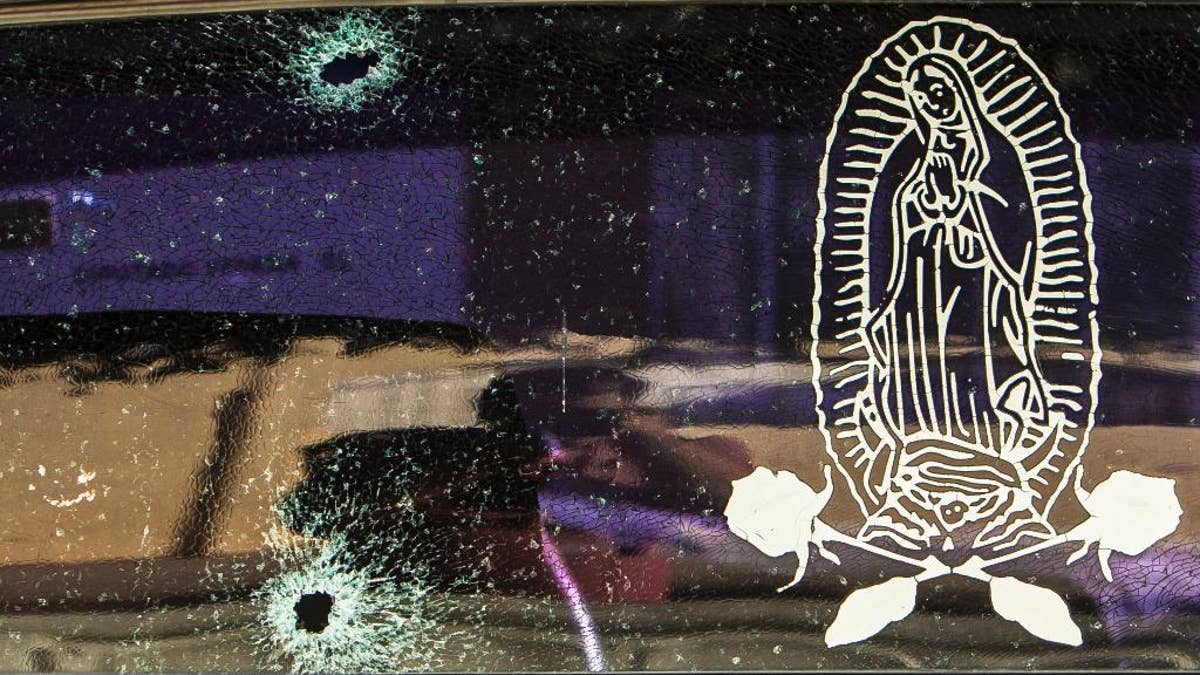 As Joaquin "El Chapo" Guzman stands trial in a New York federal courthouse, facing life behind bars, the massive drug empire he allegedly ran for decades continues to claim lives and pad the pockets of a multibillion-dollar operation with tentacles across every region of the United States.
The Drug Enforcement Administration's (DEA) 2018 National Drug Threat Assessment, released earlier this month specifically named Guzman's Sinaloa cartel as one of the "Mexican transnational criminal organizations" that represent "the greatest criminal drug threat in the United States," responsible for a wide range of crimes including murder, kidnapping and human smuggling in addition to traditional drug trafficking activities.
The report said the influence of cartels continue to grow in U.S., and that the Sinaloa in particular – characterized as one of the oldest and most established – maintains distribution hubs in cities that include Phoenix, Los Angeles, Denver, and Chicago. Illicit drugs distributed by the Sinaloa cartel are "primarily smuggled into the United States through crossing points located along Mexico's border with California, Arizona, New Mexico, and West Texas," the report said.
And while the profits continue to flow to Sinaloa and other cartels, the bodies continue to pile up. The DEA asserts that in 2016, approximately 174 people died every day from drug poisoning. And in 2017, synthetic opioids like fentanyl were involved in nearly 30,000 deaths – outnumbering those caused by firearms, motor vehicle accidents, suicide, and homicide.
"Mexican cartels continue to make large quantities of cheap methamphetamine and deliver it to the United States through the Southern border," the report said. "Seizures at the border increased from 8,900 pounds in 2010 to nearly 82,000 pounds thus far in 2018."
And the Sinaloa is alleged to be operating in every region of the U.S., with its distribution network supplying the overwhelming majority of the cocaine, heroin, marijuana and methamphetamine flooding the black markets. The four reigning hotspots for running the networks, analysts told Fox News, are in Chicago, Los Angeles, Atlanta, and Miami.
"Sinaloa and other cartels often employ smugglers or force unpaid, unwitting parties to march many miles, under challenging conditions and harsh terrain, to smuggle sacks of marijuana – sometimes weighing as much as 100 pounds – into southern U.S. cities, while utilizing other smuggling organizations to move hard narcotics," said Joshua Fruth, a risk consultant on transnational threat networks.
Fruth said Sinaloa "uses vehicles traveling along major routes through Tijuana, Nogales, and other areas, ranging from passenger vehicles with women and children as occupants, disguised vehicles, and semi-trucks falsely moving narcotics under the premise of legitimate commercial business."
But the smuggling methods vary, and the cartel often relies on high-level corruption to penetrate the U.S. Such methods include the use of subterranean tunnels, commercial cargo trains and passenger buses, maritime vessels, backpackers or mules on covert land trails, as well as aerial methods including ultralight aircraft and unmanned aerial systems and drones to conduct air drops and monitor U.S law enforcement along the southwest border.
A common means of getting large drug shipments into the U.S., according to Derek Maltz, former Special Agent in Charge of the Drug Enforcement Administration Special Operations Division in New York, is by using legitimate trucking companies to unwittingly move the product.
"The cartels will hide the cocaine in the produce shipments in very sophisticated ways," he said. "The tractor-trailers will then deliver the large shipment of both legitimate goods and contraband to warehouses where the cocaine is then separated and picked up by the local Sinaloa cartel cell representative."
And creativity is key. New York federal prosecutors unveiled footage in the trial last week showing how the accused kingpin at one point made arrangements to run contraband narcotics stuffed into jalapenos, via a tunnel, into California. And just 50 feet from an official border crossing.
"There are thousands of smuggling methods to export drugs across the border. Drugs can be hidden in toys and food; concealed inside fuel tanks; hidden in mechanical traps; inserted in bodies, or dissolved in water," noted James Jeffrey Higgins, a retired Supervisory Special Agent with the DEA and author of "The Narco-Terrorist." "Drugs are too small and the border is too large to catch much of it. Groups like the Sinaloa Cartel transport the drugs using a higher number of smaller-sized shipments to minimize loss if a shipment is intercepted by law enforcement."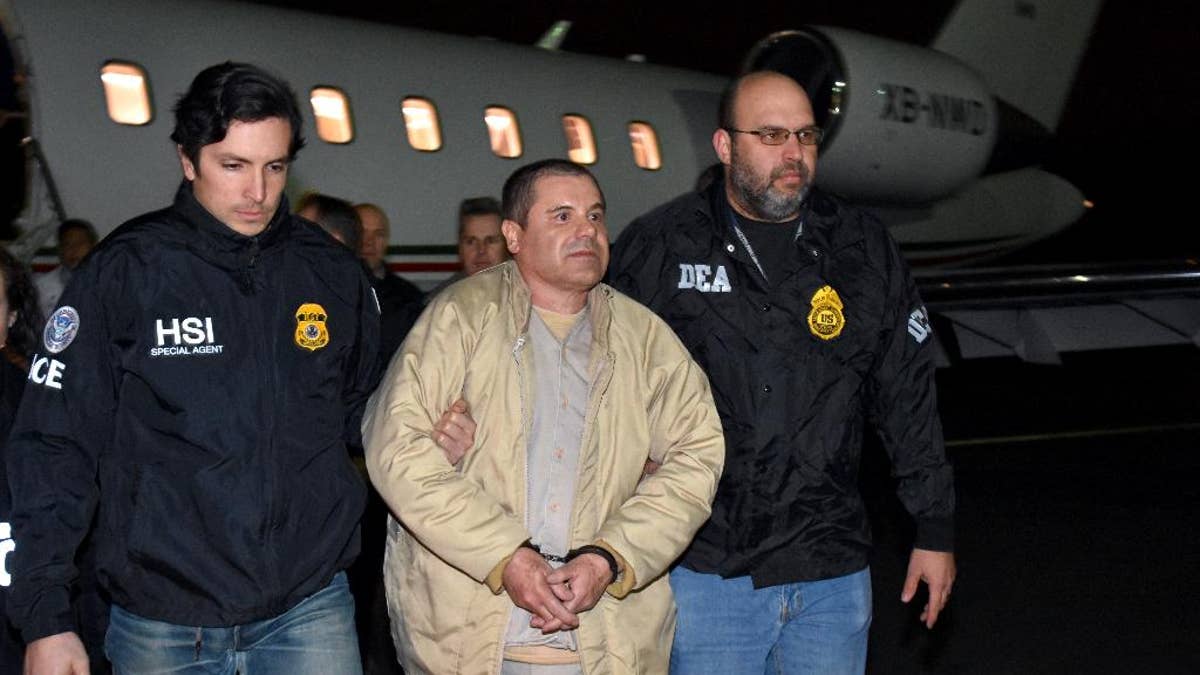 The drugs are then dispersed to every region of the country, through well-established distribution hubs, and smaller cells.
"The product most often enters the U.S. through the Tijuana, Tucson, and El Paso areas, and is most often transferred to the western transshipment hub, Los Angeles, or the eastern transshipment hub of Chicago, where it's broken down into smaller loads for regionalized shipping," said Fruth, who has also served as a law enforcement officer. "Cities like Atlanta, Minneapolis, and Oklahoma City may be used as intermittent trans-shipment points. L.A. serves as the hub for product movement into Canada, landing in Vancouver, B.C."
The affiliates within the U.S., the DEA report said, are an array of compartmentalized cells assigned with specific functions, such as drug distribution or transportation, consolidation of drug proceeds, or money laundering.
"Operatives typically embed themselves in demographically homogeneous Hispanic population centers. Generally, like most of the cartels, Sinaloa operatives, who may or may not have U.S. citizenship due to Sinaloa's 'federation' of international allied criminal organizations, tends to lay low to evade detection," said Fruth. "Typically, at operational/logistical phases across the U.S. border, Sinaloa operatives' roles range from logistical support to money laundering cells."
HAS BIBLE-CARRYING EL CHAPO REALLY FOUND GOD? SKEPTICS AREN'T BUYING IT
CHAPO'S BEAUTY QUEEN WIFE LIVING LAVISHLY - AWAY FROM THE COURTROOM
Sinaloa is also said to diversify its money laundering tactics to "legitimize" and relocate its ill-gotten funds back to Mexico. Such tactics include "limited bulk cash smuggling through vehicles and coyotes. But the majority of funds are tied to trade-based money laundering schemes that make extensive use of layered front, shell, and shelf companies."
"These companies, which may include Mexican restaurants, convenience stores, gas stations, import/export firms, construction, farming, automotive repair, nightclubs, and others, provide means to justify cash-intensive deposit activity through U.S. banks," Fruth continued. "Front companies will often be tied to 'straw men,' also known as 'smurfs' who act as money laundering intermediaries used to provide layers of separation that anonymize the connections to Sinaloa leadership. "
He also pointed out Sinaloa is becoming more tech-savvy, exploiting cryptocurrency 'privacy coins,' which are exchanged with Bitcoin to remove the need for bulk cash smuggling and provide increased anonymity that makes audit traceability by investigators more challenging.
But it's not cartel members themselves who peddle drugs in the U.S. That's generally handed off to street gangs.
"Sinaloa makes extensive use of its relationships with American street gangs, like the 5/6 Point Gangs of Chicago, known as Gangster Disciples, or Folk Nation," Fruth said. "Inclusion of other gangs to facilitate narcotics trafficking after the transshipment points have only increased after the arrest of El Chapo, due to power-struggles, in-fighting, and mistrust among Sinaloa's leadership echelon."
Once the local cell distributes the cocaine and collects the proceeds from their shipments, Maltz said, they will turn the money over - which would in many cases goes right back into the same tractor-trailer compartments back to Mexico.
While the DEA's Threat Assessment points out Mexican cartel members inside the U.S. "strive to maintain low visibility and generally refrain from inter-cartel violence so as to avoid law enforcement detection and scrutiny," that doesn't mean heinous things don't happen in the darkness.
"Sinaloa's egregious acts of violence, drug trafficking tactics, and money laundering approaches are starting to become more prevalent in U.S. based, Sinaloa-allied street gangs, with increased reporting of torture, kidnapping, assassination, and other heinous acts intended to instill fear in rivals, demand loyalty from subordinates, and maintain territorial control," Fruth observed.
As of 2015, Mexican outfits were able to expand into gaining larger shares of eastern U.S. heroin markets, entering into the lucrative "white power" heroin market historically dominated by Southeast and Southwest Asia.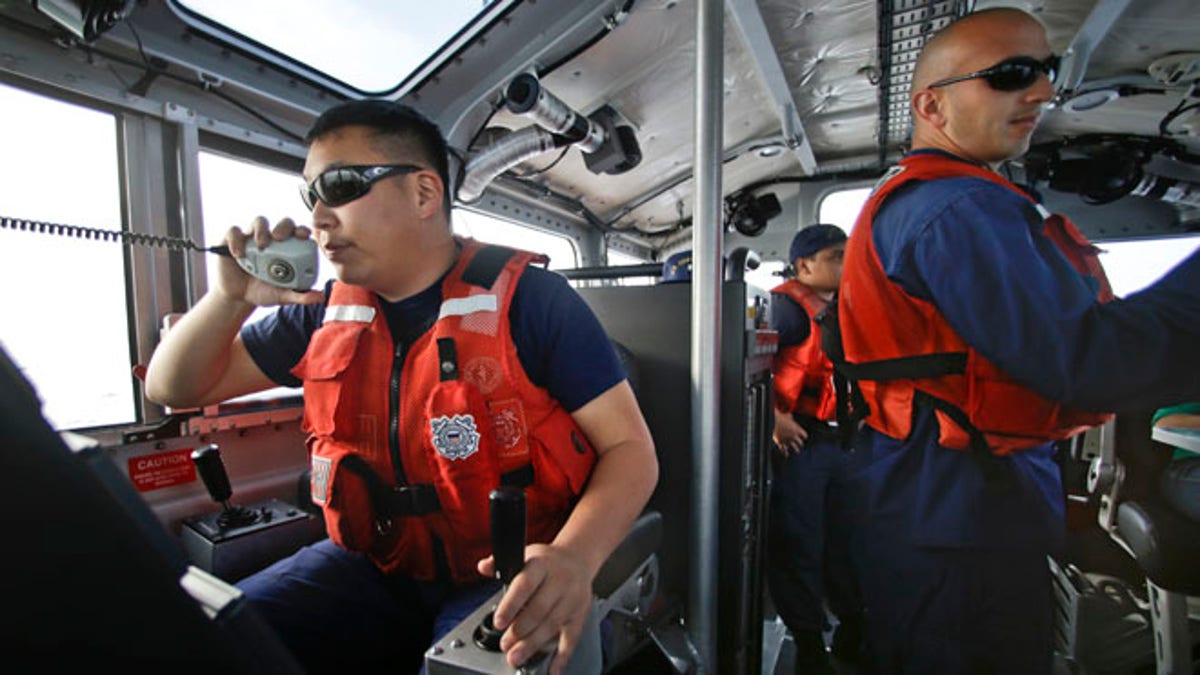 The DEA found heroin-related drug-poisoning deaths are at their highest-ever recorded level, and almost doubled between 2013 and 2016. They also said the heroin available in U.S. markets is "primarily sourced from Mexico, where opium poppy cultivation and heroin production have both increased significantly in recent years."
Sinaloa, one of at least eight Mexican cartels operating in the United States, still has by far the broadest reach, experts said. Ismael "El Mayo" Zambada-Garcia, a former top Sinaloa honcho who has been extradited to the U.S and testified against his former associate, Guzman, told the court last week that $9 million upfront on a 15-ton shipment of cocaine generally makes $39 million if purchased in Los Angeles, and upwards of $78 million when venturing as far as New York.
The U.S. has charged Guzmán with making more than $14 billion during his 28-year reign as one of the world's most wanted men. His high-priced defense team argues he was nothing more than a middle-man in the operation.