Houston shelters filling with Harvey evacuees, convention center holding over 9,000 people
Rising floodwaters and continued pouring rain from Tropical Storm Harvey have sent thousands of Houstonians into shelters, filling the city's main convention center with more than 9,000 people as of Tuesday.
The American Red Cross said Tuesday there are more than 17,000 people in Texas seeking refuge in shelters, including 45 shelters in the Houston area.
The city's main shelter, the George R. Brown Convention Center, is holding upwards of 9,000 people, according to the Red Cross.
The main room of the building, where people ate and lined up for donations Monday, now has many people lying on piles of cardboard and blankets.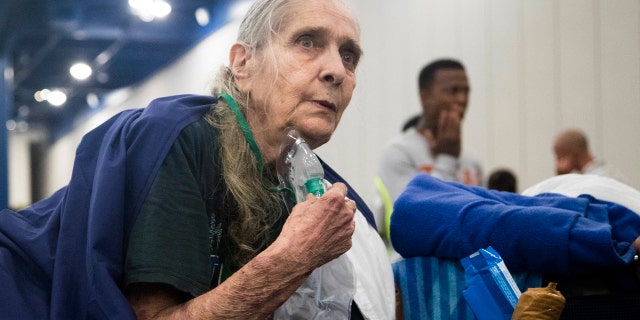 Officials told Fox News the convention center is no longer accepting busloads of evacuees, but still taking walk-ins.
Houston Mayor Sylvester Turner said at a news conference Tuesday he's made an official request to the Federal Emergency Management Agency for additional assistance, including supplies, cots, and food for an additional 10,000 people.
"We need to expand our capabilities," Turner said.
HARVEY FLOODWATERS OVERFLOW HOUSTON RESERVOIR, SEPARATE LEVEE BREACH REPORTED
The Red Cross was shipping semi-trucks of cots, waiting outside Houston, but can't yet reach the city because of high waters. The relief agency is also getting food from Houston wholesale vendors within the city.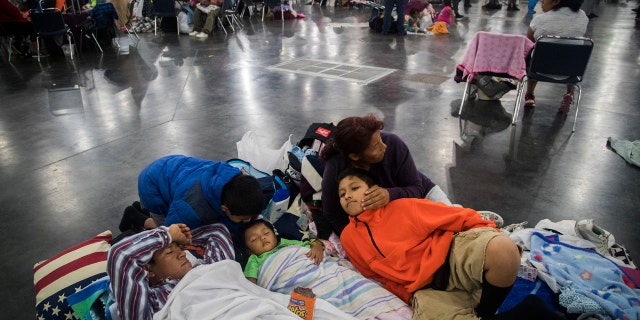 Turner said the city is looking to open additional "mega-shelter" locations to handle more people, and will have an announcement later Tuesday. A full list of existing shelters is available FOX26Houston.com.
"We are opening the doors and opening shelters to get people out of inclement conditions," Turner said. "We are not going to tolerate any activity that is criminal in nature, that is disruptive."
In Dallas, Mayor Mike Rawlings said Tuesday that the cavernous Kay Bailey Hutchison Convention Center in that city is ready to hold upward of 5,000 people, but it's not clear how many people would be housed at the facility because of the difficulty those in the Houston area are having finding dry roads and highways to travel along.
For those inside the Houston convention center, the second night was louder, more crowded and at times, more chaotic.
At one point, officers tended to two men lying unresponsive in front of an exit, pushing away onlookers, the Associated Press reported. The men had taken drugs and would both recover within an hour, according to the AP.
One person said she had only gotten one meal Monday while watching others take several helpings of food. Another person, Kevin Perkins, described sleeping on the floor to the AP and feeling accosted by police officers inside.
HARVEY HEALTH RISKS: OFFICIALS ON ALERT AMID MASSIVE FLOODING
"It's hell," Perkins said. He shook his head and walked away as Houston Mayor Sylvester Turner, during a visit to the convention center Monday, approached near where he was standing.
"All my stuff damaged. I have no clothes, no shoes, no nothing," he said.
New volunteers arrived through the night. David Brady, CEO of the Red Cross' Texas Gulf Coast chapter, told the AP volunteers were critical to making sure evacuees "feel comfortable here, and that they're willing and wanting to pull those cots together."
"If we get our staff to be friendly and open and welcoming, hopefully that will create a culture with the folks who are staying in the shelter to do the same thing," Brady said.
Fox News' Caroline Shively and the Associated Press contributed to this report.