Houston crippled by Harvey's deluge as millions face days of flooding
Houston was again pummeled by rain Monday after a brief respite as the catastrophic storm known as Harvey stalled over the region — submerging countless homes and businesses, turning freeways into rivers and prompting thousands to plead for help.
According to the National Weather Service, residents can expect another 24 inches of rain, the return of tropical storm force winds and high flood waters. The NWS has issued flood watches and warnings from near San Antonio to New Orleans, an area that is home to more than 13 million people.
The unprecedented storm is likely to displace at least 30,000 people, has cut power to 300,000 residents, led to five reported deaths and 2,000 rescues, while inundating the nation's fourth-largest city with over 11 trillion gallons of water.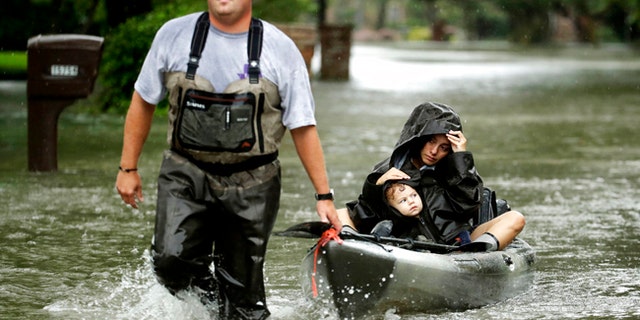 Schools, airports and office buildings remain closed on Monday as city officials asked residents to remain calm in the face of disaster.
"This is a landmark event for Texas," Brock Long, FEMA's administrator, told reporters, noting that his agency expects at least 450,000 people to file for disaster assitance. "Texas has never seen an event like this."
Houston Mayor Sylvester Turner said Monday that there are already 5,500 people in shelters and that number is expected to rise — with Dallas readying the Kay Bailey Hutchison Convention Center to hold up to another 5,000 evacuees.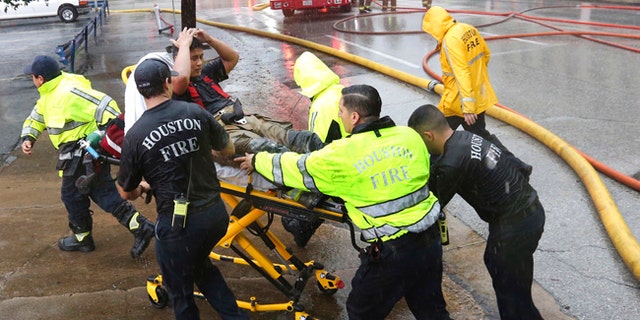 Long said Monday that 30 to 50 counties are possibly impacted by the storm and flooding in Texas, beyond Houston, and that southwest Louisiana, which President Trump approved a declaration of emergency for, will also see "a tremendous amount of rainfall."
"It is a historic amount of water. There's never been anything like it," the president said on Monday afternoon ahead of a planned Tuesday visit to the state. "We'll be leaving tomorrow around 8:30 in the morning."
Rainfall totals already range from 20 to 39 inches across southeast Texas. Harvey's onslaught is predicted to continue for the next few days, as the storm swirls around the southeastern U.S. coast, briefly heads offshore and then makes another landfall. Some communities in the Houston area will likely see 50 inches of rain by the time it's over.
Although mandatory evacuations were announced for some smaller cities and counties along the coast, no such order came through for the Houston 2.3 million residents — a decision that some have questioned — and most roads into the city are now impassable, littered with abandoned cars and trucks.
Texas Gov. Greg Abbott activated his state's entire National Guard, deploying 12,000 servicemembers to respond to the devastation. In addition, 16 aircraft are conducting day and night wide area search and rescue missions along the Texas coast from Corpus Christi to Houson.
The governor toured Rockport and the Coastal Bend region, which the storm hit especially hard. During the tour, a veteran gave the governor an American flag that reportedly was recovered from Rockport City Hall -- and asked Abbott to deliver it to the mayor.
During a live press conference Monday afternoon, Abbott thanked the "immeasurable, courageous, heroic" first responders.
"They were able to evacuate so many people and minimize loss of life," he said, noting it's remarkable they were able to save so many lives.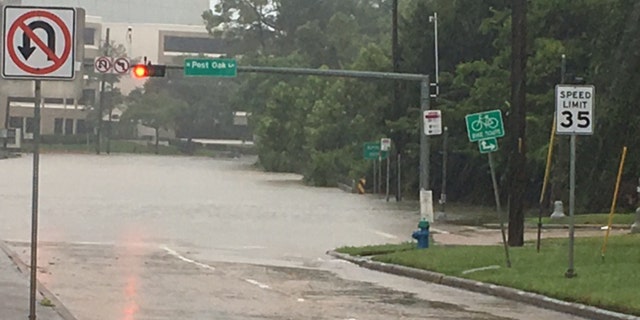 He expressed gratitude to local leaders for their "unparalleled leadership" as well as to Texans looking out and rescuing their friends and neighbors.
"We are just beginning the process of responding to this storm," Abbott said. "We are still involved in the search and rescue process."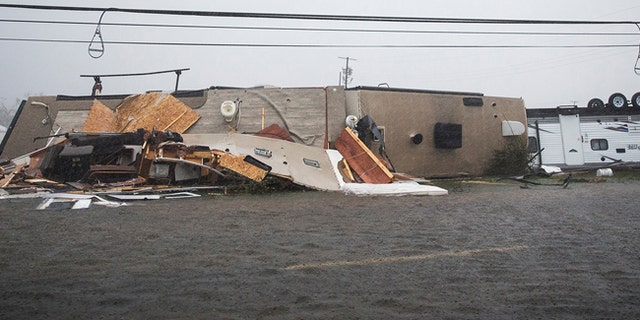 He noted Texas and FEMA was especially prevalent in helping Aransas County.
He noted next steps are "protecting and preserving life and rescuing every life we can find," helping Texans get access to necessities: food, water, supplies, and power.
"We have points of distribution that are set up in every county," Abbott said. Texas is at the early stages of turning back on power — restoration of power is one of its biggest needs.
He gave out a website to help citizens in need: Disasterassistance.gov.
Abbott said, "We need to recognize that there will be a new normal, a new and different normal, and we won't stop until we get as far as we can."
Desperate residents have taken to social media to plead for help, posting images of their families stranded at home as flood waters quickly rise.
Long said Monday that "we need citizens to be involved," because the storm and resulting flooding is greater than the government can handle.
"People need help, and we are working to provide it," the acting secretary of the Department of Homeland Security, Elaine Duke, said on Monday morning during a news conference. "Harvey is still a dangerous and historic storm."
Ken Sandy, a shelter manager for the American Red Cross, said Monday that more than 2,600 people took shelter in the George R. Brown Convention Center. Organizers with the Red Cross estimate the convention center can accommodate roughly 5,000 people.
The U.S. Army Corps of Engineers on Monday began releasing water into Buffalo Bayou from two flood control dams to prevent uncontrollable flooding downtown and near the crucial Houston Ship Channel.
"If we don't begin releasing now, the volume of uncontrolled water around the dams will be higher and have a greater impact on the surrounding communities," said Col. Lars Zetterstrom, Galveston District commander of the Corps, in a statement.
Tropical Storm Harvey became a hurricane over the Gulf of Mexico last week and made landfall northeast of Corpus Christi, Tex., on Friday night. It was a Category 4 storm with winds of 130 miles per hour. It later moved offshore before making a second landfall near Copano Bay as a Category 3 hurricane.
Fox News' Frank Miles, Lucas Tomlinson and The Associated Press contributed to this report.