Hot, dry weather stokes raging Texas wildfires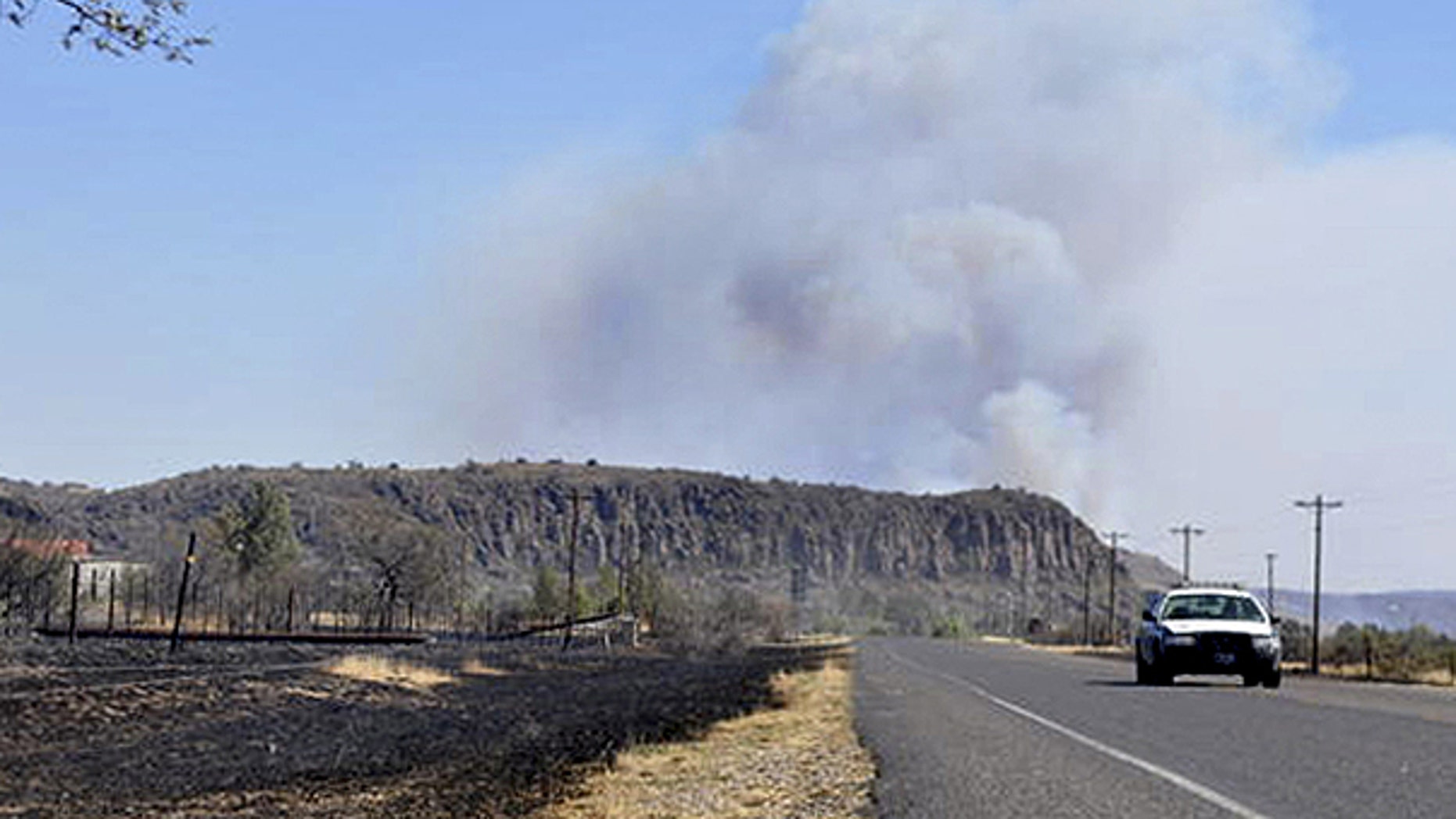 FORT WORTH, Texas – Firefighters on Sunday continued battling out-of-control wildfires scorching nearly 400 square miles across the state, including a West Texas blaze that narrowly missed a historic frontier Army cavalry fort and one of the world's leading astronomical research facilities.
A fast-moving wildfire had spread to more than 60,000 acres Sunday in Jeff Davis county and destroyed about 40 homes in Fort Davis before it raged north and east. The blaze that started Saturday night in Presidio County missed the McDonald Observatory, which instead was used as an evacuation shelter, said assistant director Anita Johnson.
The fire also missed Fort Davis National Historic Site, a U.S. Army cavalry fort built in 1854 to protect a mail route from San Antonio to El Paso and then reopened after the Civil War to protect freight wagons, according to the Texas State Historical Association.
Bob Dillard, a former Jeff Davis county judge, the county's top elected official, said firefighters spent Saturday evening pouring water on the town's bank and other downtown businesses, while residents toiled to save their homes in the town 200 miles southeast of El Paso. But by early Sunday after the fire took down the electricity, the water shut off and the town's 1,100 residents evacuated — along with most visitors in Fort Davis for the Hammerfest bicycle races, Dillard said.
"It was unbelievable, just horrific. There were horses on fire, buildings on fire, houses on fire," said Dillard, editor of the weekly Jeff Davis County Mountain Dispatch.
FEMA was expected to respond to some of the state's massive fires, assisting volunteer and other fire departments from across Texas and two dozen other states, said Alan Craft, a Texas Forest Service spokesman.
Sunday's hot, windy conditions and low humidity, combined with withered shrubs and grasses caused by the drought, made for dangerous conditions, Craft said. Air tankers usually used to douse such massive fires could not be flown Sunday because of wind gusts of 40 to 50 mph, Craft said.
Firefighters continued battling a 71,000-acre fire in Stonewall, King and Knox counties on Sunday, but no homes had been destroyed in the rural area of rolling plains, Craft said. The fire has been burning since Wednesday after it was started by a welder's torch near the community of Swenson, about 175 miles west of Fort Worth.
Also in West Texas, firefighters continued battling an out-of-control 16,000-acre fire in Midland County where 34 homes were destroyed, Craft said.
In the Texas Panhandle, a 60,000-acre blaze in Potter and Moore counties was threatening the towns of Dumas and Sunray, north of Amarillo, but was not spreading as of early Sunday evening and no evacuations had been ordered.
Some small fires were reported Sunday in East Texas, including a 129-acre Angelina County fire that was contained.
In Fort Davis, some residents had returned on Sunday afternoon, although some roads in the region remained closed.
Revis Daggett, co-owner of Wayside Inn B&B in Fort Davis, called the situation "gut-wrenching."
"It's very personal and it's quite surreal," said Daggett, whose business was safe from the flames as of Sunday afternoon. "And you look around and you just keep thinking, 'Well, you can't control the fire, so what are the possibilities it comes back at you?'"
___
Wallace contributed from Dallas. Associated Press broadcast anchor Ed Donahue in Washington, D.C., also contributed to this report.