Host of NPR Show Also Serves as Spokeswoman for 'Occupy D.C.'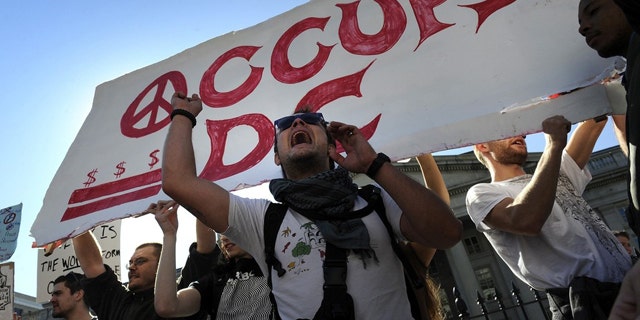 A radio host used to talking about operas by Puccini and Wagner now finds herself starring in her own drama.
Lisa Simeone, who hosts the show "World of Opera" on National Public Radio, has emerged as spokeswoman for the "Occupy D.C." movement, which has set up shop in Freedom Plaza, The Daily Caller reported.
NPR receives some federal funding and also has ethical rules that limit public relations work by its journalists.
But when asked by the Daily Caller about any conflicts of interest, Simeone described herself as a freelancer, saying, "I work in radio still, but this is totally different."
NPR told FoxNews.com that Simeone is not a staff member. Rather, she is a part-time contract employee of WDAV, the classical public radio station of Davidson College in North Carolina. Her nationally syndicated weekly program is distributed by NPR and is not a news program.
"We're in conversations with WDAV about how they intend to handle this," Anna Christopher Bross, NPR's director of media relations, said in a written statement. "We of course take this issue very seriously."
The Daily Caller report noted that Simeone has appeared in several stories about the "Occupy" movement protests, saying, "Our main focus is that we are against corporatism and militarism."
"I do know whenever it ends, we are not going to stop acts of civil disobedience, and various acts of civil resistance and organization," Simeone said. "That will be done in the myriad of ways around the country, and again, this is not the end, but only the beginning."