Honolulu lawmaker proposes bill to have armed park rangers to deter homeless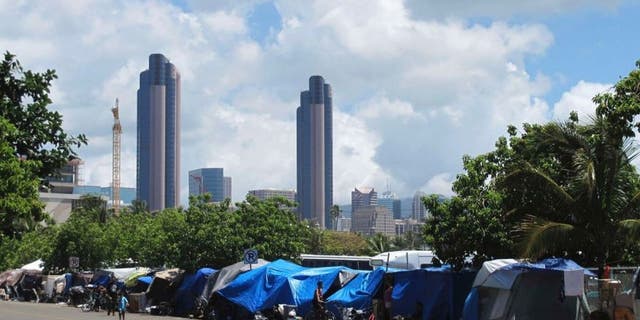 A state lawmaker is proposing stationing armed park rangers at Honolulu city parks, where homeless encampments are common, because of a growing amount of trash and safety concerns.
Residents have taken issue with piles of trash and smell they claim come from homeless encampments, the Honolulu Star-Advertiser reported Sunday.
Honolulu city Councilman Trevor Ozawa wants residents to vote on a 2018 City Charter amendment to place armed park rangers in the city's biggest parks. The rangers would be able to address illegal camping, littering and vandalism and enforce no-smoking policies should the bill come to pass.
"We continue to see enforcement issues, continue to have issues with our homeless population in our parks, and need to make our children's safety a priority," Ozawa said. "We need to continue exploring ways of keeping our park users safe and our facilities free of vandalism and destruction."
The city already has an unarmed park ranger program in place at Kapiolani Park, Hanauma Bay and the city's most-used park, the Ala Moana Regional Park, said Mayor Kirk Caldwell. City park employees also have a new shift that runs from 2 p.m. to 10 p.m.
Jen Tema, who lives in the Waikiki neighborhood of Honolulu, said she avoids passing through lookouts at Diamond Head Monument because of the overwhelming stench coming from the area.
Her son no longer surfs at the lookouts because of feces left in the water by homeless campers and her kids need to wear shoes instead of slippers over fears of discarded drug needles and used condoms on floors at parks, Tema said.
The Associated Press contributed to this report.