Homeless residents brag about makeshift 'mansion' near Seattle's famed Space Needle
Residents of the mega tent "mansion" homeless encampment near Seattle's famed Space Needle are bragging about the practicality of their new digs, taunting local politicians: "If you can live on the street and not pay rent, then why would you pay rent?"
The recently constructed camp is located on a small patch of grass on Third Avenue and Broad Street, about a half-block from the Space Needle and surrounded by multi-million dollar high-rise condos.
"It is a form of protest," Melissa Burns, one of the "mansion" dwellers, told Q13 News. "We're staking a claim. We're refusing to cower in our tents."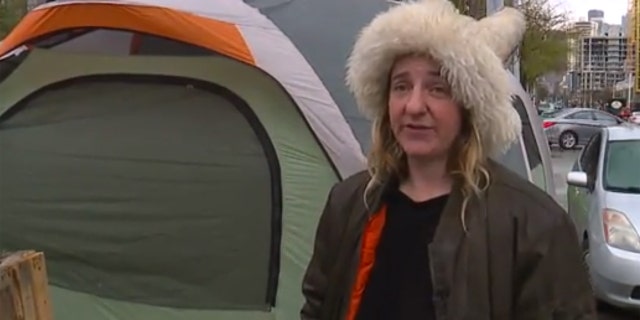 Seattle has been under siege by an exploding homeless population since at least 2015, when ex-Mayor Ed Murray declared a "state of emergency" over the crisis. The city has struggled to play catch-up and is now beset with shelters at capacity and illegal encampments, such as the Space Needle "mansion."
Burns recently moved to the new camp with others after the city forced the group out of a nearby park.
"We've got the doors, the couch, the table," she said. "We've got the living room here, which is a mess right now because we're still constructing, but we're putting up the vinyl to cover it up, make it more attractive."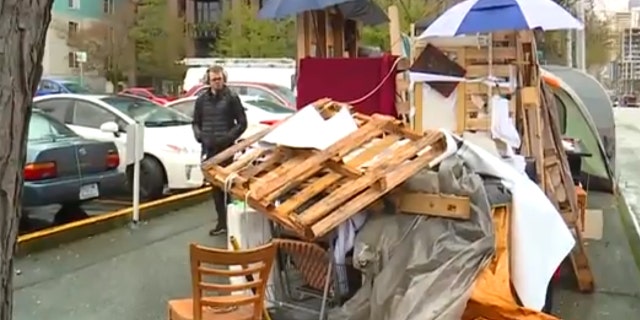 Burns said the sprawling abode is made of tents, wood pallets, chairs, umbrellas, tarps and whatever else people can put together. She conceded it's not a "discreet" construction.
"Some people are cheering us on, and some people are really angry about it," she said.
COMMUNITY FIGHTS BACK AS CALIFORNIA OVERRUN BY HOMELESSNESS, HUMAN WASTE, NEEDLES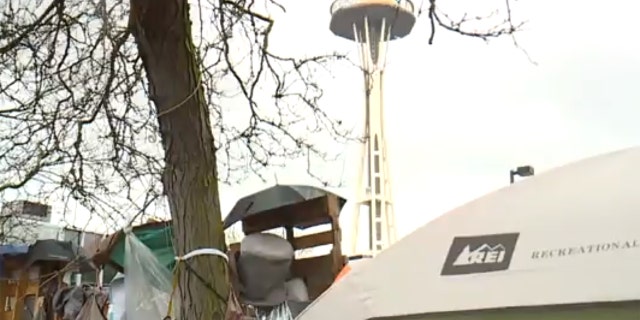 A city spokesperson told Q13 News officials have inspected the site, and will continue to monitor and evaluate it. Mental health teams are also working with Seattle officials to figure out if there's any way to convince the people living in the camp to go somewhere else.
Spokesman Will Lemke added the city has no immediate plans to remove the camp, but that may change in the future if there is a problem or safety concern.
"It's certainly an eyesore. But I don't think they have a lot of options," Lou Bequette, who works downtown, told Q13 News. "So, I guess they gotta do what they gotta do."