Holy vessel disappears from church housing Occupy Wall Street protesters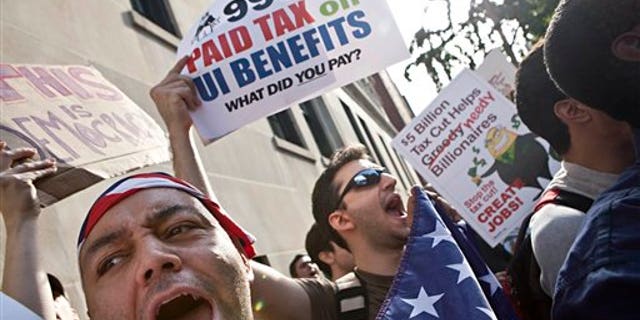 There's no longer room at the inn at a Manhattan church that's sheltering Occupy Wall Streeters after a holy vessel disappeared from the altar last week.
When the Rev. Bob Brashear prepared for Sunday services at West Park Presbyterian Church on West 86th Street, he noticed parts of the bronze baptismal font were gone.
In a fire-and-brimstone message to occupiers later that day, he thundered, "It was like pissing on the 99 percent."
In Brooklyn, at another church housing OWS protesters, an occupier urinated on a cross, according to Rabbi Chaim Gruber, who has angrily abandoned the OWS movement.
In a letter last week to OWS obtained by The Post, the rabbi fumed, "The Park Slope church housing occupiers was desecrated when an occupier peed inside the building and the pee came into contact with a cross."
The pastor of the church did not return calls.
At West Park, Rev. Brashear walked into the church for a morning service to find the 18-inch-diameter bronze basin and lid missing from the baptismal font's 800-pound base. Holy water — straight from the River Jordan — had been poured from the missing basin insert into the base's bowl.
About 60 occupiers had rolled out their sleeping bags between the pews the night before as part of their evening ritual, Rev. Brashear recalled. When they returned to the church later, following the pastor's discovery, he issued a stern warning: "You have 24 hours to find it and to come up with an amends and to come up with a plan. 'I'm sorry and it won't happen again' won't work," he scolded.
The pastor and a worshipper finally found the missing basin tossed into a small room connected to the church. The lid is still missing. The pastor has given protesters two weeks to vacate the church.
Click to read more on this story from the New York Post.